COMPETITIVE FEMALE WRESTLING VIDEO
AC-FEM-005: CRASH COURSED! feat. Lara vs Trinity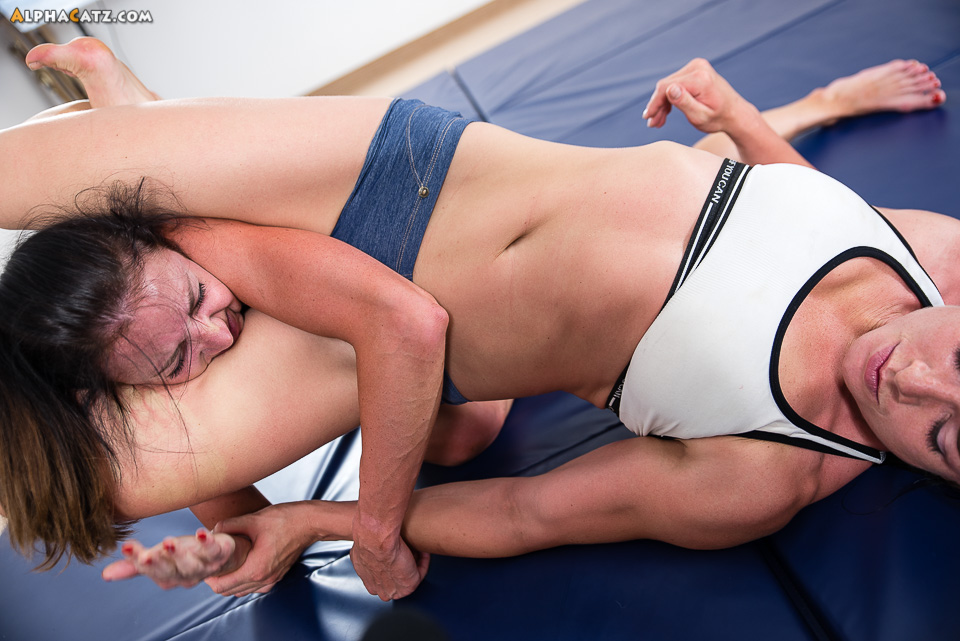 Funny story happened right before this competitive match.. Lara complimented on Trinity's lean muscly body as they met, but Trinity took it wrongly, implying that she meant she was too skinny. Eager to prove herself, she put it into her head that she would beat Lara to show her how "skinny" she was. Of course, we all knew how foolish that was, but such little 'drama' right before the camera started rolling helped to set up the course of the match and ended up shaping the fight for the better. The nervous tension and slightly unfriendly look on Trinity's face during the intro stare-down gave notice that newcomer just challenged the top girl for a fight.

Everybody know how much Lara loves to dominate those who deserve it, and with the never-ending onslaught of so many beautiful competitive submissions, Lara delivers just what Trinity asked for. The Alpha queen teaches the new girl a lesson to remember, and enjoys it very much as well.
Trinity fights with all her power and will, but Lara is so way out of her league, it's like racing a formula with a soapbox cart.

Trinity is subjected to so many repeated headscissors and triangles, she doesn't know where she is anymore. Adding in some guillotines and sleeper holds to further up her confusion, Trinity gets lost in the fight. She grows frustrated, but nothing she tries ever works. Lara is way too fast and skilled for her, and so the submissions just keep piling up.

When the end of the match finally comes, it must feel like liberation for the poor Trinity. She has just been crash-coursed in the competitive female wrestling by the super star Lara, and to her credit, she survived.

Another great one-sided competitive female wrestling match, for the many fans who love seeing one girl totally dominate the other outmatched, outclassed opponent!