COMPETITIVE FEMALE WRESTLING VIDEO
AC-FEM-006: CRASH COURSED 2! feat. Lara vs Leona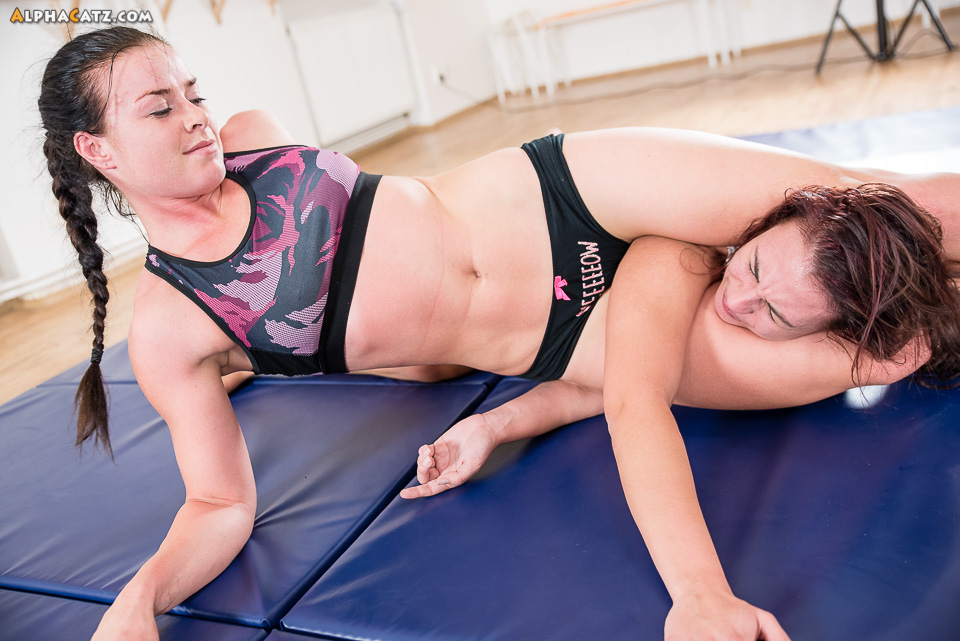 Following the previous #1-selling Crash Coursed release, Lara is at it right back again, this time against another brave newcomer in the name of Leona!

To preface, the sporty and sexy Leona did not see the Lara's Trinity match, so again, she did not have a clear idea just whom she was up against. It was probably for the better, as she entered into the fight with clear mind, not afraid of anything or anyone.

Leona is attractive athletic girl with very strong legs and is of dominant nature. She was expecting things would go her way in this match, and she attacked Lara with confidence and aggression. Of course, as Lara's fans already expect, it was the skilled megastar's day on the mats instead!

Lara uses Leona's attacks and movements on the mats and turn 'em against her, using her own superior positioning, transitioning, and often very unique holds to show the new girl just who exactly rules the AlphaCatz mats. Leona is pinned, scissored, choked, twisted, even pulled right across the mat, whichever way or position the mighty Lara wants her to. There is even more submissions in this fight than in the previous one against Trinity!

To Leona's credit, the brave newcomer always gets right back up after each tapout, and feels just as ready as Lara is for another round. Many ordinary girls would give up or tried to walk away from such tough one-sided affair, but the determined Leona definitely has the AlphaCatz courage running through her veins. While some frustration must be brewing inside of her as the match goes on, she never wavers in her determination to try her best, despite getting crash-coursed so hard one fall after another.

The result is another amazing one-sided competitive female wrestling match, expertly shot and produced, destined to be a gem in all of our fans' collections.