Cobra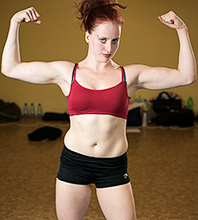 Height:
5'5"
Weight:
120 lbs
Biceps:
12"
Thighs:
22.5"
Hips:
35.5"
Sports:
GYMNASTICS, POLEDANCE
Cobra

SAID:

I am a little fireball, always super active and trying new things in life. Being given a chance to face the boys in their traditional arena, mat wrestling, I was ecstatic and could not sleep the day before my first tryout. Wrestling proved tough yet great deal of fun. Since I hate losing and I hate giving up, I think I found a new thing to conquer and get better at!
ALPHACATZ SAYS:
Cobra may be the strongest pound-for-pound girl we hired recently. Being a gymnast, she grew immense functional strength in muscles most of us don't even know we have, and her flexibility gives her ability to apply her power in wide range of motion, which comes very handy during wrestling. AJ could not believe this relatively small girl was beating him and admitted Cobra taught him big lesson in humility, earning a respect for all competitive gymnasts out there.