Elektra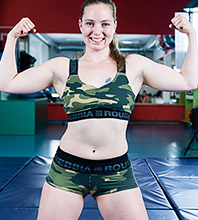 Height:
5'4"
Weight:
137 lbs
Biceps:
12"
Thighs:
24.5"
Hips:
40.5"
Sports:
FITNESS, TWERK, EXTREME RACES
Elektra

SAID:

I always enjoyed watching action movies that feature a strong female character. From Xena the warrior princess to Lara Croft, I looked up to and wanted to be like 'em. I do sports that make me strong and always love hearing compliments from some of my male friends who say I'm as strong as 'em. Wrestling is new to me but I enjoyed my first day on the wrestling mats very much!
ALPHACATZ SAYS:
Big props to Elektra for not giving up on wrestling even though she injured herself during her very first competitive match. She was so enthusiastic and really jumped on her first oponnent, eager to prove she has what it takes to be an Alpha amazon. We certainly hope and expect she recovers and comes back very soon as she is plenty strong with good athletic background, not to mention easy on the eyes and to talk to. Great squeeze from her built legs, and look at her V-shape as she flexes! All while being all woman, very feminine, with powerful curves. She could become a tough opponent on the mats in the future.