Medea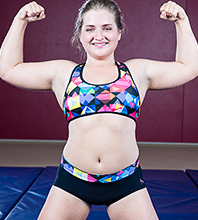 Height:
4'11"
Weight:
126 lbs
Biceps:
12.5"
Thighs:
22.5"
Hips:
37.5"
Sports:
YOGA, POLEDANCE, RUNNING
Medea

SAID:

Some guys in my last school used to poke fun of me because I am short. Now that I started with wrestling, I would love to just go back and put 'em into a crushing headlock, just to show 'em how this girl means business! I'm a nice person otherwise but challenging myself to come to the mats and deciding to let loose and let some steam out proved to be a great decision for me. I like wrestling!
ALPHACATZ SAYS:
Medea may be the shortest girl on our team, but most definitely not the weakest one. In fact, she packs quite a wallop. Being one of very sturdy constitution, she's like one of those short but strong powerlifters. Medea initially was unsure should could be aggressive enough to wrestle competitively, but as soon as the camera started rollling, it was like a switch flipped in her head, and she became a feisty little tigress!