Nemesis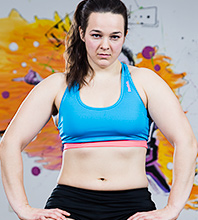 Height:
165cm / 5'5"
Weight:
74kg / 163 lbs
Biceps:
35cm / 14"
Thighs:
66cm / 26"
Hips:
112cm / 44"
Sports:
SWIMMING, POWERLIFTING
Nemesis

SAID:

I admit, I used to be a pretty big girl in the past, before I fell in love with lifting iron! Nowadays, I work extremely hard on my continuous body transformation, and I love to see how my body reacts to working out and how strong I continue to get. I'm already able to outlift some regular guys in the gym and I love it! I am used to putting a lot of effort into everything I do, so expect me to improve my wrestling skills quickly.
ALPHACATZ SAYS:
Nemesis words may sound down-to-earth because she is such a nice girl, but make no mistake, she charges you full throttle on the mats and goes after what she wants.. whether that's to pin you or squeeze you into submission! Capable of squatting almost 100kg, she has the strength and is very stable in her stance on the mats. As you will see, wrestling her is hard yet exhilarating at the same time!
Strong new talented newcomer to join our team.