Nike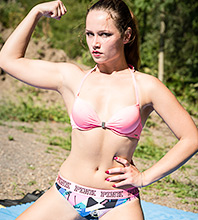 Height:
164cm / 5'5"
Weight:
58kg / 128 lbs
Biceps:
28cm / 11"
Thighs:
55cm / 21.5"
Hips:
95cm / 37.5"
Sports:
SWIMMING, SKIING, JOGGING
Nike

SAID:

I don't do sports on high level, and I actually enjoying just sitting around, doing nothing. Being dominant female comes naturally to me, I don't need to act it out. I know guys love my soft, feminine and curvy body, and to use the opportunity given by AlphaCatz to use it to force my way over a guy?! Wow, I liked the sound of it right away:)
ALPHACATZ SAYS:
Nike's full round butt is so sexy.. but it's also a very effective weapon. Just perfect for long, smothering pins. Nike was very aware of it too and actually proposed we shoot movies featuring smothering holds with her, as her body seems to be made for it. It was a hot summer day, and to be trapped underneath such a sexy female only made it even hotter!