Scorpi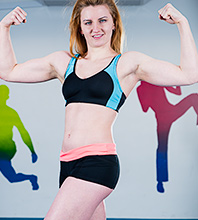 Height:
167cm / 5'6"
Weight:
62kg / 137 lbs
Biceps:
31cm / 12"
Thighs:
60cm / 24"
Hips:
101cm / 40"
Sports:
STRIKING MARTIAL ARTS, CALISTHENICS
Scorpi

SAID:

I've always been fascinated with ancient martial arts. I guess I'm what you'd call a tomboy, in a sense? Spending too much time browsing the malls or playing with dolls was never too high on my list of priorities - unlike being able to defend myself. Unlike striking, grappling is a fairly new experience to me, however I'm a fast learner and am not afraid to tangle with girls who may be better than me in order to improve. Plus, beating up boys is always good fun!
ALPHACATZ SAYS:
Scorpi is a feisty new Cat, who, after conquering striking martial arts, wants to now learn grappling and wrestling. She possesses great naturally competitive attitude and thoroughly enjoyed her first wrestling experience with us. We are sure she will want to learn to become good and hope to see some great performance from her as her progress continues.