Siberia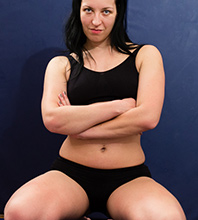 Height:
173cm / 5'8"
Weight:
71kg / 155 lbs
Biceps:
34cm / 13.5"
Thighs:
62cm / 24.5"
Hips:
104cm / 41"
Sports:
FITBOX, FITNESS, INLINE SKATING
Siberia clips4sale:

Siberia

SAID:

I've always liked female action heroes - the kind that kicks serious ass, like Mortal Combat girls for example. I took self-defense classes several years ago and took my first interest in grappling then.
I love the feeling when I have the guy subdued in a hold and we both know I have him trapped at my mercy. Boys deserve to suffer!
ALPHACATZ SAYS:
Siberia scissoring squeeze is deadly. Her sporting background gives her whole body every day workout and when she wraps those pythonic thighs around you, it's game over!