Taifun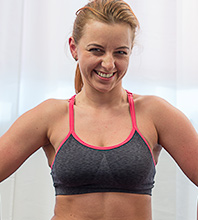 Height:
5'5"
Weight:
128 lbs
Biceps:
11.5"
Thighs:
23"
Hips:
37"
Sports:
ROCK CLIMBING, MTB RACING, POLEDANCE
Taifun

SAID:

I have so much energy, I'm always ready for action. I climb mountains, race bikes, and work my whole body on a pole in poledancing. I've always been inclined to use the grapevine hold in bed to get what I want, and my boyfriend loves it when I take charge :) Learning how to wrestle has been such a joy to me, and it feels great to be told I have a talent for it!
ALPHACATZ SAYS:
Taifun is a whole lot of fun to be around. She's always smiling and is very easygoing. Once on the mats, she attacks like a tigress. She's very strong for her size, her core and legs are like a rock as she wraps around you, squeezing the breath outta you with her thigh and butt muscles. Her scissors hurt!