Yola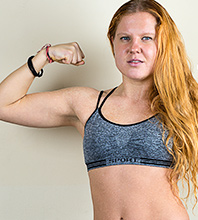 Height:
168cm / 5'6"
Weight:
64kg / 141 lbs
Biceps:
31cm / 12"
Thighs:
58cm / 23"
Hips:
96cm / 38"
Sports:
RUNNING, CYCLING, YOGA
Yola

SAID:

I'm an adventurous person who'll try almost anything at least once. I am a curious person, in pursuit of self-improvement in both physical and mental aspects of life. So you will often find me either meditating and working up my mind, or working out to become stronger and more flexible.. a more capable human being, so to speak. If all this may sound a bit strange or unrelated, let's just say, in layman's terms, that I will not hesitate to use the muscles of my body to demonstrate what they can do to your weak neck or your ability to breathe, should I decide to deprive you of such privilege!
ALPHACATZ SAYS:
Yola is an intelligent young woman, who wasted no time in learning how to smother effectively. In fact right after shooting her first smothering video, she wanted to do another one, so we did not dare to try to argue with her, and let her do her thing, which was to smother the living daylights out of us.
Her extensive flexibility surely enables her to plant herself very securely on top of you, with good stability for a tight grip!