LIVE SHOOTING WEEKEND APRIL 2016
EXCITING BRNO WEEKEND OF LIVE MIXED AND FEMALE MATCHES AND SESSIONS!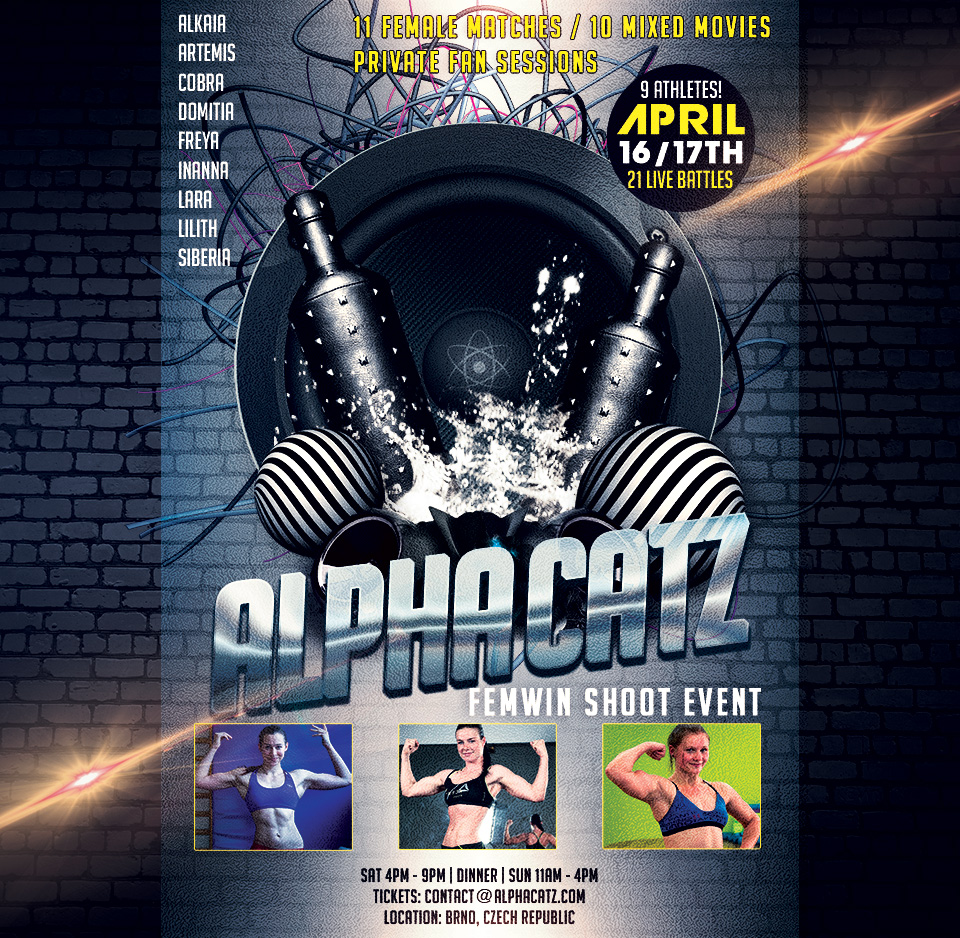 Dear AlphaCatz fans,

We are excited to be adding another chapter to our amazing female amazon repertoire!

Our Femwin friends are coming to town to shoot with us and we decided to make this a fan-friendly weekend!

The plan is to shoot 21 live matches - 11 competitive female wrestling and 10 mixed wrestling ones (comp to semicomp to dom/scissors and a special 4-girl gang vs 2+ guys one).

Separate mat room space is reserved for private fan sessions, available with all the participating girls.

See our sexy athletes battle it out against each other, beat up on you, then talk to 'em at the dinner table!

EVENT PROGRAMME:
SAT 4:00PM - 9:00PM: LIVE MIXED & FEMALE MATCHES and PRIVATE SESSIONS


SAT 9:30PM DINNER WITH THE GIRLS


SUN 11AM - 4:30PM LIVE MIXED & FEMALE MATCHES and PRIVATE SESSIONS
GIRLS' EVENT LINEUP:
LIVE MATCHES SCHEDULE:
SATURDAY:


4:00 Lilith Vs Cobra


4:30 Lara Vs Siberia


5:00 Alkaia Vs Freya


5:30 Lara Vs Male1


6:00 Inanna Vs Male2


6:30 Cobra Vs Male1


7:00 Lilith Vs Freya


7:30 Alkaia Vs Domitia


8:00 Artemis, Alkaia, Lara, Siberia Vs Males (45min+ gang-up style)

SUNDAY:


11:00 Artemis Vs Cobra


11:30 Alkaia Vs Lara


12:00 Lilith Vs Inanna


12:30 Artemis Vs Siberia


13:00 Freya vs Male2


13:30 Lara Vs Domitia


14:00 Artemis Vs Inanna


14:30 Lilith Vs Male1


14:50 Siberia Vs Male2


15:10 Alkaia Vs Male1


15:30 Domitia Vs Male2


15:50 Artemis Vs Male1
VENUE & ACCOMMODATIONS:
The venue is easily accessible by taking a tram departing right from outside Brno's main station, therefore we recommend you choose from plenty of 3 and 4-star hotels available in Brno center. Use Booking.com or Airbnb.com
You'll receive easy-to-follow directions to the event venue once you purchase tickets. The evening dinner venue will also be close to the center.
GETTING TO BRNO:
Brno has small but convenient international airport. Bus to the city center departs every 30min and costs about 1E. Taxi to city center about 15E.
If flying in to Vienna, either rent a car & drive (about 1h50m) or take a train or bus. These comfortable yellow buses running from Vienna airport to Brno center are the easiest and cheapest option (cca 15E, online reservation required).
ADDITIONAL INFO:
Why do we announce the event so late? - We've deliberately chosen to advertise this very last-minute in order to only get a limited number of fans.
This being our very 1st event, we want to start small to get a feel for everything, so the whole weekend experience goes well and is great for everyone!