LIFT & CARRY VIDEO
AC-LC-039: EFFORTLESS HEAVY LIFTING feat. Domitia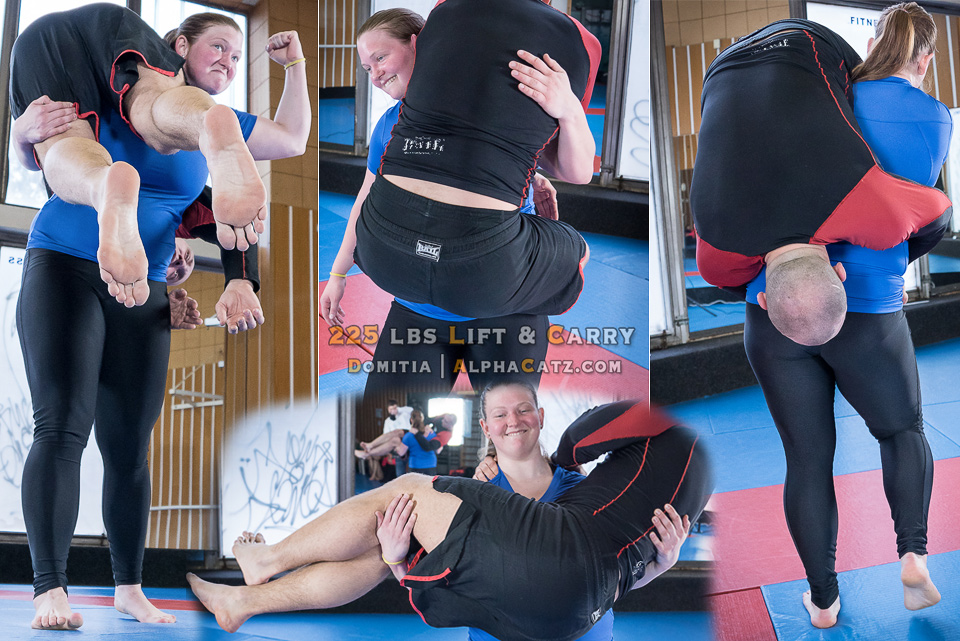 Domitia was asked by a L&C fan whether she could lift and carry someone over 100kg!
Heracles, being 103kg/226lbs, certainly fits the bill. They meet, shake hands and Domitia goes to work. She immediately picks his huge heavy body up like he weighs nothing. She lifts him up, throws him over her shoulder, and starts walking. For a regular/normal girl, impossible feat. For Domitia, just another toy to play with and display her big power upon.

She lifts and carries Heracles in bearhugs, cradle carries, over-the-shoulders, fireman's carries and more throughout the whole video. She lets him try to accomplish the same, asking him to show his strength in carrying her. She is about 90kg/200lbs herself, so certainly a big, strong, heavy-weight girl. Still, she is lighter than him, and yet, he seems to be struggling with trying to carry her. Talk about female power! Domitia resumes with showing him how it's done, laughing how easy it is for her, enjoying his facial expressions of disbelief.

Finally, after lifting and carrying him for 17 minutes, she walks out of the gym, the floor thundering under their combined weight, as she still has him over the shoulder, walking away casually. For lift & carry, Domitia is the one.