MIXED WRESTLING VIDEO
AC-MIX-040: LEAN, FIT & TENACIOUS feat. Trinity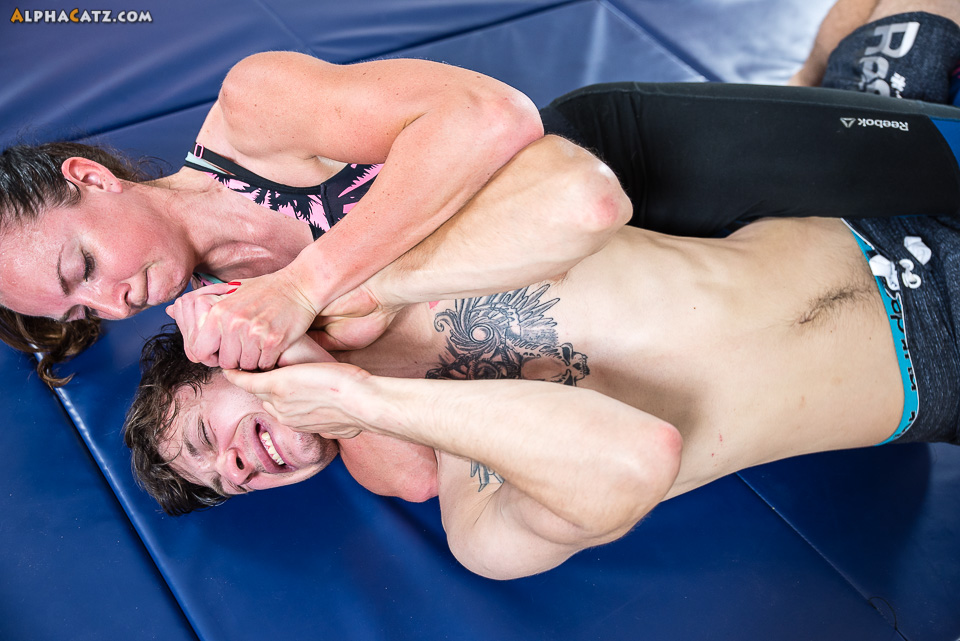 Trinity in her first mixed match. Lean, fit & tenacious athlete, she charges Andel right from the start, and never lets go.

Being very competitive girl by nature, always eager to prove against boys, it comes to no surprise that she is not about to give him an easy fight. She uses her aggressive attitude and her body chiseled from lifting weights to force him into painful holds, all while making faces that show she means business.

She chokes him using both the various headscissors as well as multiple headlocks, and as the match progresses she also finds liking in a modified trachea choke pin, sitting right on his throat, pressing on him with all her weight, as his face turns red. If he ever manages to unbalance her during these intense moments, she just falls to the side, trapping his neck and one arm in hard scissors that do him in every time.
See, her thighs are all muscle and almost no body fat, and those who know that body type know very well how much they hurt, as they dig right into the sides of your neck.

To Andel's credit, he manages to submit her couple times as well. Trinity's friend, Antiope, can also be heard in the background coaching her enthusiastically a few times. Trinity is relentless, has a lot more stamina than Andel, and scores many submissions over the guy.

When it's all over, she does her sexy wink, as she steps on her beaten foe, flexing proudly her lean guns for the sweet moment of her first victory.