Alkaia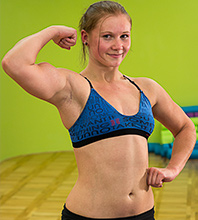 Height:
165cm / 5'5"
Weight:
69kg / 153 lbs
Biceps:
33cm / 13"
Thighs:
65cm / 25.5"
Hips:
106cm / 42"
Sports:
POWERLIFTING, CROSSFIT, SWIMMING
Alkaia

SAID:

I realize I may have an advantage over regular girls due to my superior build, strength and tenacity. I love all physical challenges, and I thoroughly enjoyed beating up AJ who's heavier than me but stood no chance! I also love to pose and show off my feminine muscles :)
ALPHACATZ SAYS:
Alkaia is a great new talent - just look at that body! This is how a true amazon is supposed to look like. There is a lot of power in those big beautiful meaty muscles, and Alkaia is all woman! Great curves and a great girl that is sweet to talk to but just loves wrestling!