Daenerys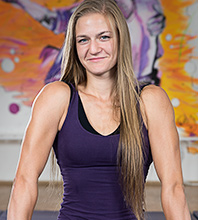 Height:
165cm / 5'5"
Weight:
52kg / 115 lbs
Biceps:
28cm / 11"
Thighs:
53cm / 21"
Hips:
92cm / 36.5"
Sports:
CALISTHENICS, VOLLEYBALL
Daenerys

SAID:

I like the feeling the comes with being fit and strong! It powers you throughout the difficulties of the day and makes you eager to face some more. I'm coming to wrestling with no prior experience, but I have my fitness to back me up in the start, and the rest is up to me and my mind to see which level I'll be able to reach! Boys, you better watch out.
ALPHACATZ SAYS:
Looking at her slim model-like bodily measurements, it would be easy to dismiss Daenerys as a threat. Big mistake! Daenerys loves the various street workout trainings.. and we are becoming fans ourselves, after experiencing how much fitness and overall functional strength it gives you, as witnessed first-hand by trying to contain this sexy athletic girl. Looking at her veins as she flexes, you can tell this is not a Barbie girl who only cares about shopping. Instead, Daenerys is very dedicated to sports, and we hope she will give wrestling as much attention as needed to thoroughly learn how to kick our asses!