Hella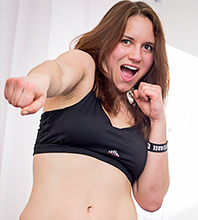 Height:
5'7"
Weight:
147 lbs
Biceps:
12.5"
Thighs:
24.5"
Hips:
42"
Sports:
BJJ, JUDO, KICKBOX, SKIING, FOOTBALL
Hella

SAID:

Hi guys.. just so you know, I am into even more sports than what's listed above. I cannot be stopped! I've been practicing some form of martial arts since I was little. All guys I dated loved the fact I was able to protect myself, and very much knew I was capable of beating 'em up to a pulp too, if required!
ALPHACATZ SAYS:
Hella's fighting skills, and as importantly, her fighting spirit, are a thing to watch. She bursted onto our mats, and just wiped the floor with everyone in the room. This girl LOVES to fight, and does multiple sports almost every day. She very much keeps her femininity too, while her strong stocky build and trained muscles underneath make her one fearsome female amazon. She is capable of both ground game as well as stand-up skills!