Inanna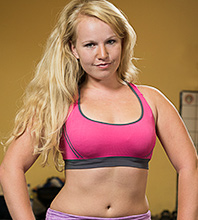 Height:
5'5"
Weight:
154 lbs
Biceps:
13"
Thighs:
26"
Hips:
41"
Sports:
TRX, POLEDANCE, CYCLING
Inanna

SAID:

I was always curvy with strong lower body from all the junior dancing. Once I added strength-building exercises like TRX training, my body responded and I could see big gains in my overall strength. Being challenged to step on the mats and wrestle against boys, I couldn't wait to show 'em what I can do. Simply said: girls can do anything boys do, and we look better doing it too :)
ALPHACATZ SAYS:
Inanna has all going for her.. with those long golden hair and beautiful feminine face, she looks just like a Barbie doll. While her body is curvy in all the right places, she is well trained in various strenuous activities, making her very strong. On the mats, she is smart and uses her weight well too, often putting AJ into pretzel-like holds she was coming up with during her initial training. Sweet sexy girl who's always smiling but is all business once it's time to make you give up!