Theia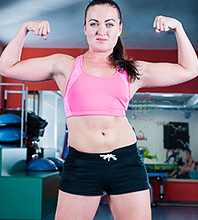 Height:
5'5"
Weight:
127 lbs
Biceps:
12"
Thighs:
23"
Hips:
39.5"
Sports:
FITNESS, DANCING, RUNNING
Theia

SAID:

I'm very sports oriented and I like being in front of a camera, so I got quite curious when AJ approached me with the offer to star in his wrestling movies. I did not expect it to be that hard and competitive, however that only reinforced my initial thoughts that these gruelling ground struggles of power and speed might be something worth exploring further:)
ALPHACATZ SAYS:
Theia is yet another athletic girl with model looks to be welcomed on our mats. Trapped in her holds, as her captivating piercing eyes look down on you, you must feel like you're in a wrestling heaven, right? Well, all true except for the pain, as her legs are strong! She may not be the most agressive girl, but her wrestling presence still looks great to watch, even when she's the one tapping to somebody more skilled than her. We hope she undergoes more wrestling training to become as dangerous as she is sexy!