Trinity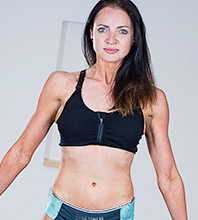 Height:
171cm / 5'7"
Weight:
56kg / 124 lbs
Biceps:
29cm / 11.5"
Thighs:
52cm / 20.5"
Hips:
94cm / 37"
Sports:
RUNNING, FITNESS, INLINE SKATING
Trinity

SAID:

I love to run, bike, skate, lift weights.. I simply love to move and accomplish things! And now, it looks like I'm falling for wrestling. I've never wrestled before (unless you count beating up on boys in my school days:) But do not take me lightly - I already asked my boyfriend to be my wrestling dummy, so expect to see progress from me swiftly!
ALPHACATZ SAYS:
Trinity expressed interest in learning how to wrestle right from the moment we wet. Eager to learn and with great physical fitness level to back her up, she has what it takes to become good, if she keeps motivated enough in the long run. For now, we were impressed how strongly she charged at us in her first casting, despite having a bruised ankle from a previous skating fall (yes, she skated 20km to our initial meeting just to warm up).

Trinity is used to working hard to get what she wants, and in the gym trains as hard as guys do. So despite her lack of initial experience, she had no problem facing mighty Lara as her 1st ever wrestling match! That takes courage and warrior attitude - both of which this new prospect has plenty.