COMPETITIVE FEMALE WRESTLING VIDEO
AC-FEM-003: INTENSE BATTLE OF NEW CATZ feat. Khaleesi vs Antiope (f. Judith)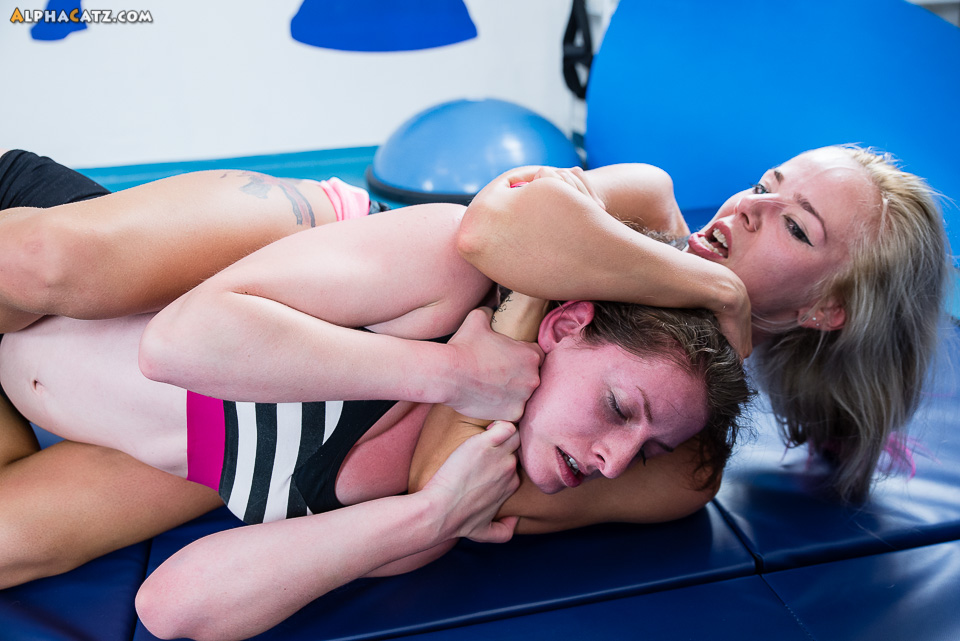 Typically at AlphaCatz, we try to avoid putting two newcomers facing each other in the beginnings of their wrestling careers.. especially when they are of the feisty kind. However, due to circumstances, it's just what has happened in this new female competitive wrestling release. To further up the ante, this release ends up featuring not just two new Catz, but three!

The match starts off as the fight between Khaleesi and Judith. They eye each other up in the intro staredown, and start to tangle. Couple points later, Judith gets hurt. Nothing really bad or serious, but it upsets her.. not only physically but emotionally as well - and she decides to forfeit the match.

The third new girl, Antiope, watches the developments, and decides to step right in to challenge Khaleesi to fight her instead. They look at each other, and you can see the tension building up. These are 2 new Catz, freshly off the initial training, both ready and anxious to fight each other.. to prove they have what it takes to win.

What ensues is the feisty competitive fight between two lightweight very athletic girls. Antiope especially charges Khaleesi hard during takedowns and tries to establish dominance in their struggles. Khaleesi relies on her strong legs, slapping on bodyscissors any chance she gets, even trapping Antiope in a spectacular headscissor. Antiope relies on her muscly arms, going after Khaleesi's neck with sleepers and headlocks nonstop like a little lioness.

These two show that they have what it takes. Action is intense, and they both display the I-want-to-win-and-not-lose attitude throughout the match. There is a clear winner at the end.. and while the loser is beaten decisively, good sportsmanship is shown as she raises winner's hand up to acknowledge the fair defeat.

All 3 ladies display their willingness to tango in a competitive manner - but there can only be one winner. Tune in this fight to find out who she is!