Delphi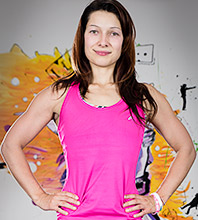 Height:
168cm / 5'6"
Weight:
60kg / 133 lbs
Biceps:
31cm / 12.5"
Thighs:
57cm / 22.5"
Hips:
97cm / 38.5"
Sports:
FITNESS, ROWING, RUNNING
Delphi

SAID:

I come from a sports-oriented family, so various sports have always been a big part of my life. I took self-defense classes in college and enjoyed it a lot! So I come to the AlphaCatz mats with open mind and will see where this new exciting experience takes me!
ALPHACATZ SAYS:
Delphi is a nice and intelligent girl, but also a very athletic one! She surprised us with painful scissoring squeeze and willingness to wrestle competitively right away despite the initial lack of experience.