Domitia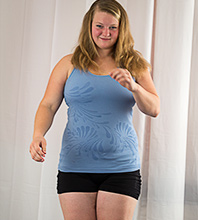 Height:
5'7"
Weight:
191 lbs
Biceps:
14"
Thighs:
27.5"
Hips:
44"
Sports:
POWERLIFTING, HEAVY ATHLETICS
Domitia

SAID:

I love to train heavy, especially my legs. I can squat almost 250lbs. I used to wrestle my boyfriend, who was also a strong athlete. He learned to avoid my legs, or face immediate, crushing and painful defeat!
ALPHACATZ SAYS:
Big power, immense leg strength, heavy weight, like-a-rock stability and balance.. that is Domitia. Just look at those tree trunk legs! Domitia had to be really careful not to hurt us.. she could crack a rib whilst barely squeezing her massive, powerful but feminine thighs. She loves to wrestle and is not afraid to go at it and show you who's boss!