Gaia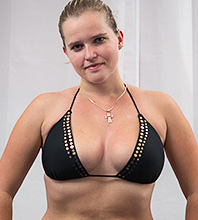 Height:
5'8"
Weight:
156 lbs
Biceps:
12"
Thighs:
24.5"
Hips:
41.5"
Sports:
SNOWBOARDING, FITNESS
Gaia

SAID:

I am what you call a tomboy. I've grown up having a brother who needed a good beating almost every day to keep him in place. Once I hit puberty, he knew messing with me would always have painful consequences, as I developed faster and became bigger than him. I don't see him that often anymore, but on our family gatherings I still like to remind him who ruled the house!
ALPHACATZ SAYS:
Gaia came to us ready to kick ass, and she did. She has a naturally dominating nature to her and genuinely enjoys being the physically superior one. She would often kept pinning and squeezing after the camera turned off! Her feminine assets and good weight make her a good pinner, and looking up to see her beautiful face can feel like heaven.. until she pours on the pressure!