Pandora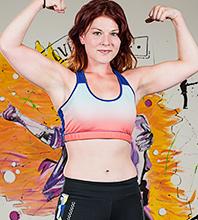 Height:
165cm / 5'5"
Weight:
60kg / 132 lbs
Biceps:
31cm / 12"
Thighs:
58cm / 23"
Hips:
97cm / 38"
Sports:
HIKING, STRIKING MARTIAL ARTS
Pandora

SAID:

I love the adrenaline in fighting sports, makes me feel alive! In my stand-up game, I train with the guys. So facing you on the mats will be nothing new to me. It will be nice to round out my overall martial arts fighting skills with the addition of grappling and wrestling, with the goal to become as good on the ground as I already am standing up.
ALPHACATZ SAYS:
Pandora is trained in striking martial arts, so she certainly knows how to handle herself, should the push ever come to shove in real life! On the wrestling mats, she is a fast learner and with some training she will become dangerous.. at least that's her plan, and one which we wholeheartedly support. She already has the explosive power from her MA training, so expect her grappling to improve quickly!