COMPETITIVE MIXED WRESTLING VIDEO
AC-COMP-037: SABRINA'S DEBUT feat. Sabrina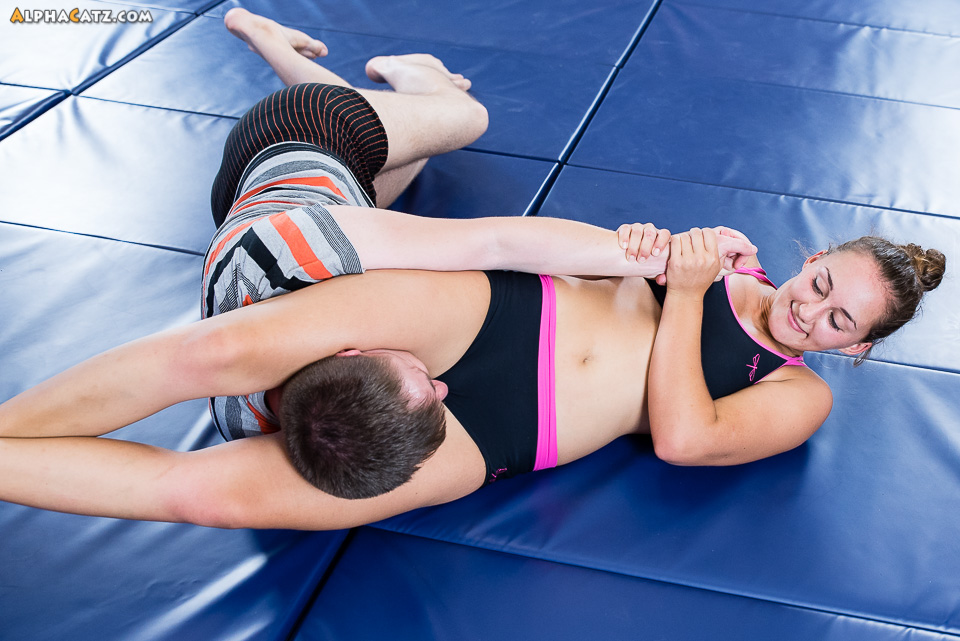 There could be a lot said about our new recruit Sabrina. Instead, to put it shortly.. She is sexy. She is strong. She loves wrestling very much despite no prior experience. And she is talented.

In her first mixed match she relies a lot on her strong upper body, executing multiple hard headlocks, along with an inescapable sleeper. She starts using her legs as well, catching AJ in front, rear and inverted headscissors. You can see in her gorgeous eyes and in her beautiful smile that she is loving all the moves she is trapping him in. She smiles after each point, mesmerised by the new knowledge of various ways of how to dispose of her opponent.

Cobra can be heard behind the camera, giving her occasional hints on what to do when the guy seems getting upper hand momentarily. They both giggle when Sabrina reverses positions and forces him where she wants him.

Sabrina is getting quite popular with sessions already and you can see why. It's just better wrestling a girl who enjoys what she does, looks like a total sweetheart, yet puts you firmly in your place and with a smile on her face.

She even holds him in the final hold for a little longer, as if she doesn't want to let him go. And when her match is over, she puts her foot on his chest and looks straight into camera while flexing her guns, proudly proclaiming her 1st victory over a man. Sabrina rocks!