MIXED WRESTLING VIDEO
AC-CUST-041: BEATING GOLIATH feat. Freya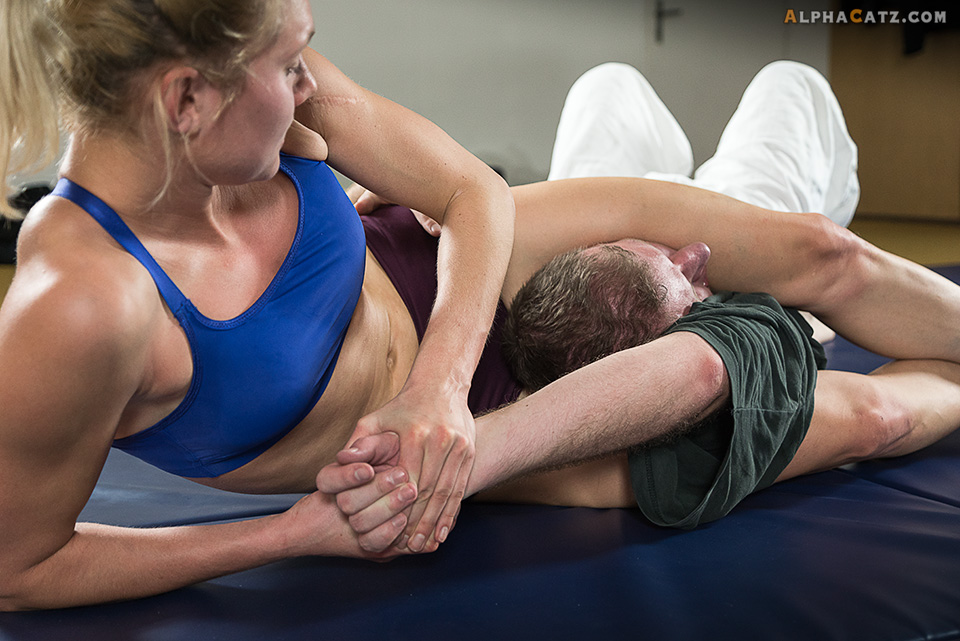 This custom order is a fast action semicompetitive mixed wrestling match, with request for a tall athletic amazon outwrestling a super-heavy skilled opponent.

Goliath is over 240 lbs, and knows how to fight. Amazon Freya, at almost 6 feet tall, has some extremely long, fit and strong legs, which she loves to use to entangle Goliath's neck with over and over, in order to extract as many submissions as possible out of the big, strong guy.

Goliath may be bigger but she is the trained athlete with a lot better stamina, and being naturally aggressive fighter with martial arts background, she is not going light on the man. He gets full doses of her power, whether it's the numerous headscissors that sap his strength before making him give up, or the painful sleepers and arm chokes that make him red before forcing the tap-outs.

Headscissors with one of his arms trapped in are the most used hold, with Freya taking full advantage of her long limbs, which seem to leave no room to wiggle out of. Her determined, almost a mean face when she wrestles, brings a resemblance to the old greek warrior women of the past.
As she towers over his beaten body at the end, looking down on him as she flexes, one must admire her trained, goddess-like superior physical features.

Over 20 submissions in this long gruelling wrestling bout - made for fans of tall fit girls beating big strong opponents, with majority of points coming from being squeezed by the strong female legs.