ALPHACATZ MIXED WRESTLING VIDEOS
AC-LC-039: EFFORTLESS HEAVY LIFTING feat. Domitia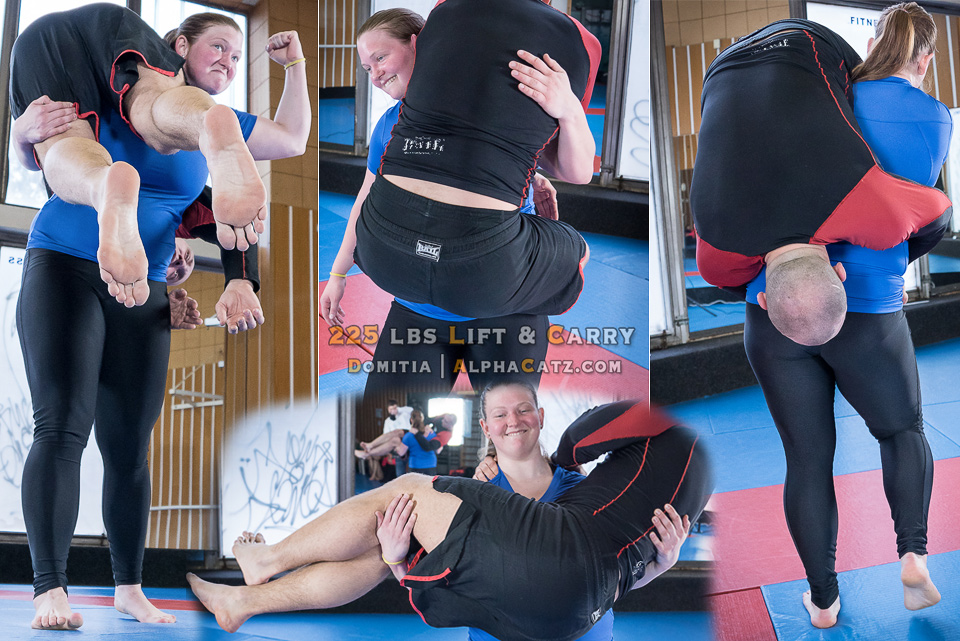 Domitia was asked by a L&C fan whether she could lift and carry someone over 100kg!
Heracles, being 103kg/226lbs, certainly fits the bill. They meet, shake hands and Domitia goes to work. She immediately picks his huge heavy body up like he weighs nothing. She lifts him up, throws him over her shoulder, and starts walking. For a regular/normal girl, impossible feat. For Domitia, just another toy to play with and display her big power upon.

She lifts and carries Heracles in bearhugs, cradle carries, over-the-shoulders, fireman's carries and more throughout the whole video. She lets him try to accomplish the same, asking him to show his strength in carrying her. She is about 90kg/200lbs herself, so certainly a big, strong, heavy-weight girl. Still, she is lighter than him, and yet, he seems to be struggling with trying to carry her. Talk about female power! Domitia resumes with showing him how it's done, laughing how easy it is for her, enjoying his facial expressions of disbelief.

Finally, after lifting and carrying him for 17 minutes, she walks out of the gym, the floor thundering under their combined weight, as she still has him over the shoulder, walking away casually. For lift & carry, Domitia is the one.
AC-BOND-038: TIED UP AGAINST HIS WILL feat. Lara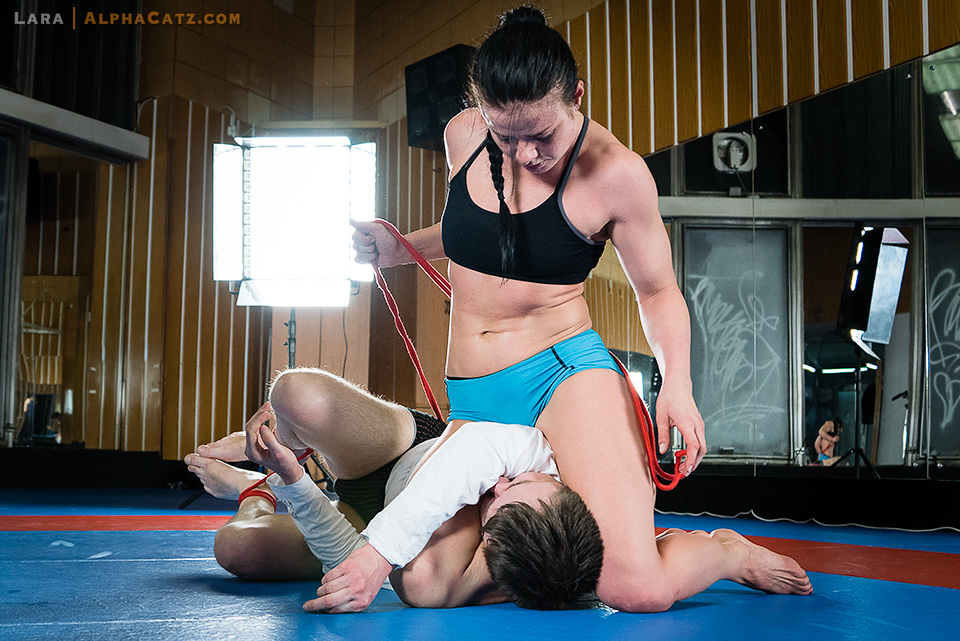 Lara and Siberia expressed great interest in starting out with the style of the matches where the goal is not only to outwrestle the opponent but to tie him/her up against his/her will during wrestling with the use of immobilising and pain-compliance holds and positions. Siberia's first mixed bondage wrestling match can already be found released on our sister channel. This here is the magnificent Lara and her first ever bondage wrestling performance - mixed wrestling bout spiced up with the use of ropes, with the goal of tying up the opponent whether he likes it or not.

The match starts just like a regular mixed wrestling match. This however features no easy transition into bondage style where the male often just lays down and takes being tied up with minimum or no resistance. No, both sides here have the same goal - to overpower and completely tie up the other. Both fight for the upper hand just as in regular wrestling match, except here the goal is to take control of the opponent, wear him/her down, make him/her weaker, entrap and punish the other with tiring/choking/painful holds, to 'soften' him/her up so he/she gets tired first before the rope work can start and be then more efficient against a properly 'prepared' opponent, that is one who's already more tired, well-immobilised in a hold, generally worn-out, basically more 'ready' to be subdued further with the bondage and worked into a pretzel than a fresh one.

Of course Lara, being the vastly superior wrestler of the two (as proven by our best-seller AC-COMP-035), puts the pressure on AJ soon after the start and within a minute or two starts getting the upper hand, as she attacks him and goes to work on him using her vast array of holds, putting him in trouble and pain. AJ gets caught in arm choke and choked hard, then pinned and squeezed, already breathing heavily, suffering and weakening quickly just as Lara wants him to. Within four minutes into the match, she catches him in side headscissors and as he stupidly grabs the rope with his other free hand to try to put the first rope around her legs perhaps, she quickly steals it from him and with him still trapped in the hold, she expertly slips the first knot around his other (trapped) wrist, and from that moment on, the battle for his complete immobilisation via bondage starts.

AJ tries to twist and wiggle free, but Lara is expert in making her opponents stuck in painful positions as long as she wants to. She skilfully applies pressure and weight at the right spots, bends and traps his limbs in the right and painful angles, all to allow her to work the rope onto him one loop after another. She even uses headscissors and triangles as pain-compliance holds to get him where she wants him, whether he likes it or not.

She works on his hands first, painfully twisting 'em backwards. He suffers as he's trapped helplessly, and each of his resistance efforts is being met with yet more pain and pressure. The rope loops keep getting added around his body, as Lara wraps him into a pretzel-like package slowly and cruelly. The entire tying-down part takes well over 10 minutes, as he manages to get at least his hands partially free midway through, forcing her to apply even more pressure and tie him up tighter. Her mood is playful, but dominant and assertive. She may be smiling often (she is enjoying herself), but she is ready to pounce on him even harder at any second if the situation requires it. Any resistance is met with swift punishment. You try to wiggle free, boy? Bam, she slaps a triangle choke around his neck, and makes his face grow red.

Throughout the use of physical force and efficient wrestling skills, she finally ties him up into a knot, with him laying down on his belly, all his limbs tied together, unable to do anything but to breathe heavily and hope his suffering will end soon. She even slips a loop around his neck and connects it all together. He is fully submitted and totally helpless, immobilised and submitted against his will by a superior woman.

Lara stands up, puts her sexy foot on his beaten torso and smiles, proudly flexing for the camera during her long and well-deserved victory pose. She's already thinking how to tie him up even better next time. Fun fact: after the camera stops rolling, girls witnessing her performance go to congratulate her on the job well-done, and together tease the completely immobilised loser for a while. Some girls have all the fun (esp. the strong ones)!
AC-COMP-037: SABRINA'S DEBUT feat. Sabrina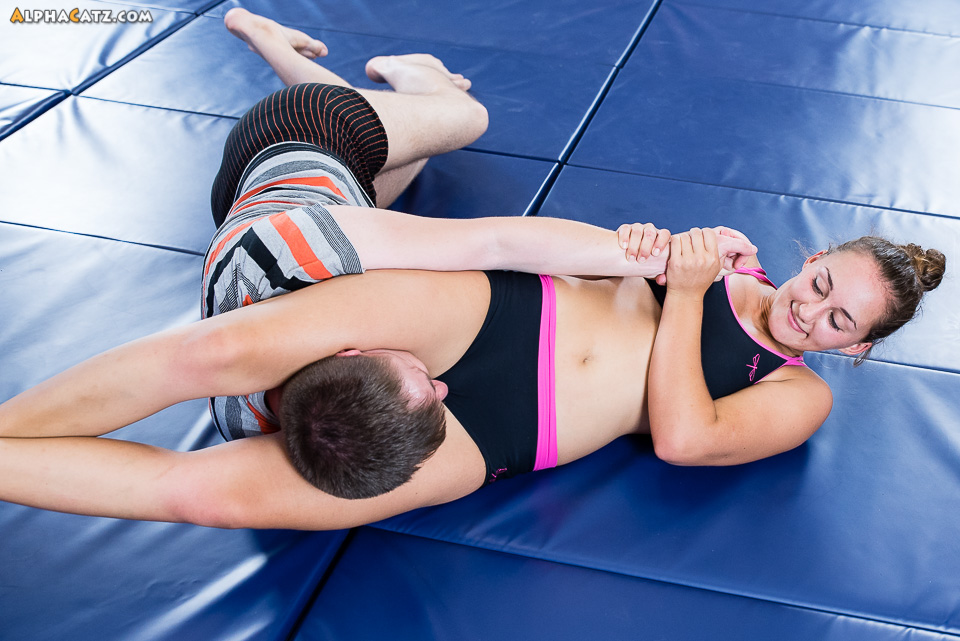 There could be a lot said about our new recruit Sabrina. Instead, to put it shortly.. She is sexy. She is strong. She loves wrestling very much despite no prior experience. And she is talented.

In her first mixed match she relies a lot on her strong upper body, executing multiple hard headlocks, along with an inescapable sleeper. She starts using her legs as well, catching AJ in front, rear and inverted headscissors. You can see in her gorgeous eyes and in her beautiful smile that she is loving all the moves she is trapping him in. She smiles after each point, mesmerised by the new knowledge of various ways of how to dispose of her opponent.

Cobra can be heard behind the camera, giving her occasional hints on what to do when the guy seems getting upper hand momentarily. They both giggle when Sabrina reverses positions and forces him where she wants him.

Sabrina is getting quite popular with sessions already and you can see why. It's just better wrestling a girl who enjoys what she does, looks like a total sweetheart, yet puts you firmly in your place and with a smile on her face.

She even holds him in the final hold for a little longer, as if she doesn't want to let him go. And when her match is over, she puts her foot on his chest and looks straight into camera while flexing her guns, proudly proclaiming her 1st victory over a man. Sabrina rocks!
AC-CUST-036: SLEEPERHOLD PUNISHMENT feat. Freya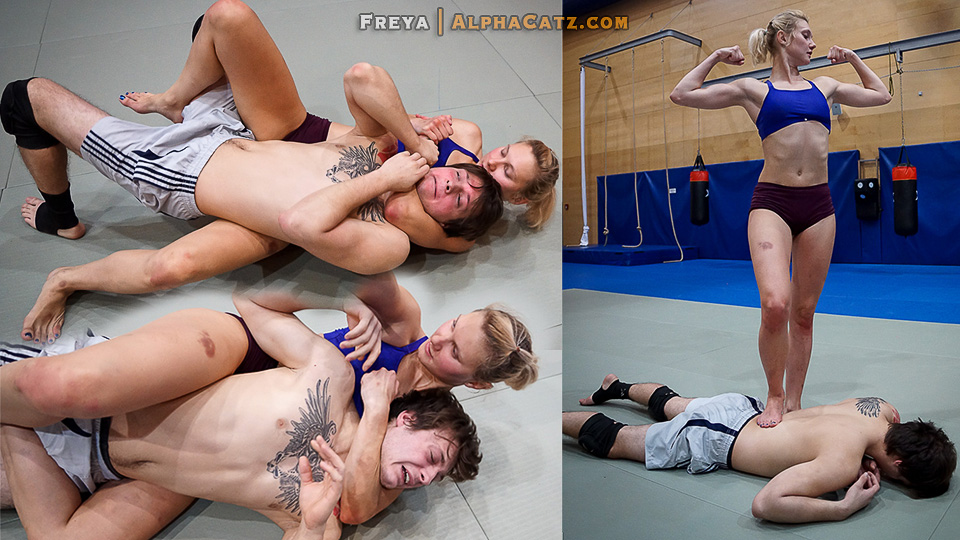 Freya was asked by a sponsor who loves long sleeperholds whether she would enjoy torturing a guy using this hard tormenting chokehold. She happily obliged and what follows is this fan scenario: Freya starts with armwrestling challenge. As they armwrestle on the mats, she soon however starts to get a feeling as if Andel may possibly not be trying as hard as he could.. and she truly hates cheaters! And so she steals his back, wraps her long arms and endless legs around him, and goes to work on this poor fella's neck.

Andel is subjected to very prolonged sleeper hold punishment. She doesn't just choke him along the sides of the neck, she often puts pressure on his trachea as well, all together causing Andel to start deteriorating quickly as the minutes and minutes of being choked mercilessly by the tall amazon go on. He grows weak enough that she even manages some time to use just one arm while flexing the other, all with him still trapped in her choking clutches.

Midway through he starts gagging and feeling sick.. to the point he requires short break to recover. This is unplanned and authentic, camera cuts as he lays face down trying to catch his breath. Freya is not done with him, however, and as soon as he gets some healthier color back to his face, she puts him right back into the same RNC hold, and continues working him over harshly, not caring much about his sufferings.

At the end, after what has felt like eternity for Andel (his own words after the shoot), she finally shows some mercy, and lets go of his neck. While still straddling his torso, sitting across his back, she starts flexing as he lays all spent and motionless underneath her. She stands up, steps on him, and continues flexing, looking at her own peaked biceps. Long victory pose finishes with Freya standing directly above her beaten victim, towering all 6 feet of her above the punished male. She hates cheaters, and Andel will remember this!
AC-COMP-035: STEAMROLLED BY NEW STAR feat. Lara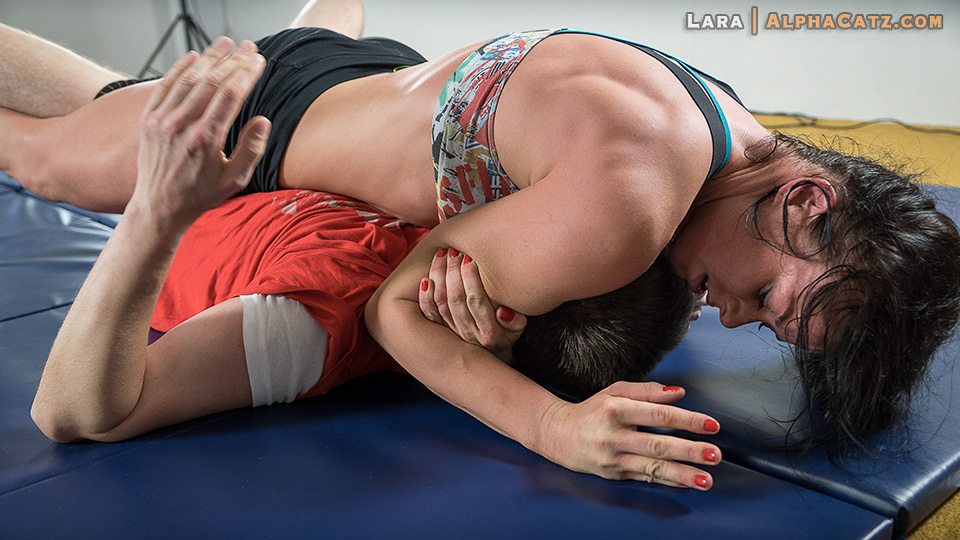 Lara, our newest competitive team reinforcement, enters the AlphaCatz battlegrounds.. and what an entrance that is! Skilled, strong, tough and sexy, she already has our other Alpha Catz worried about when they will have to face her on our mats in our competitive female battles. Here however, Lara starts her exciting AlphaCatz journey in a mixed wrestling match against AJ in a hard-fought competitive battle of sexes.

Trained well by her male friends, she is used to fighting guys, and delivers such beating to AJ that he's yet received from a newly hired talent. Lara is methodical, and uses array of holds all applied with speed and tenacity to catch her opponent helplessly in her clutches no matter what he tries to defend himself. The male is forced almost constantly trying to play catch-up to try to survive the onslaught Lara unleashes on him. He is wrapped up in smothering triangle chokes from all angles, choked in inescapable sleeperholds, and headscissored to submission repeatedly by this awesome case of female superiority.

At one point during the match, he even cowardly tries to attack her during the break when she's not expecting it, only to be met with her immediate crushing response where she turns tables on him instantly and has him tapping out in mere seconds, punishing his foolishness.

Lara's firmly in control of this match all the way to the final tapout (over a dozen points, no pins, all submissions!) where she makes him submit twice. Laying beaten on the mat, he is stepped on by our new hot amazon, who strikes a double biceps pose on top of him, proudly proclaiming her 1st victory over him.

Lara rocks, and she just loves tapping guys out! Highly recommended.
AC-DOM-034: RULED BY STRONG COUNTRY GIRL feat. Nikita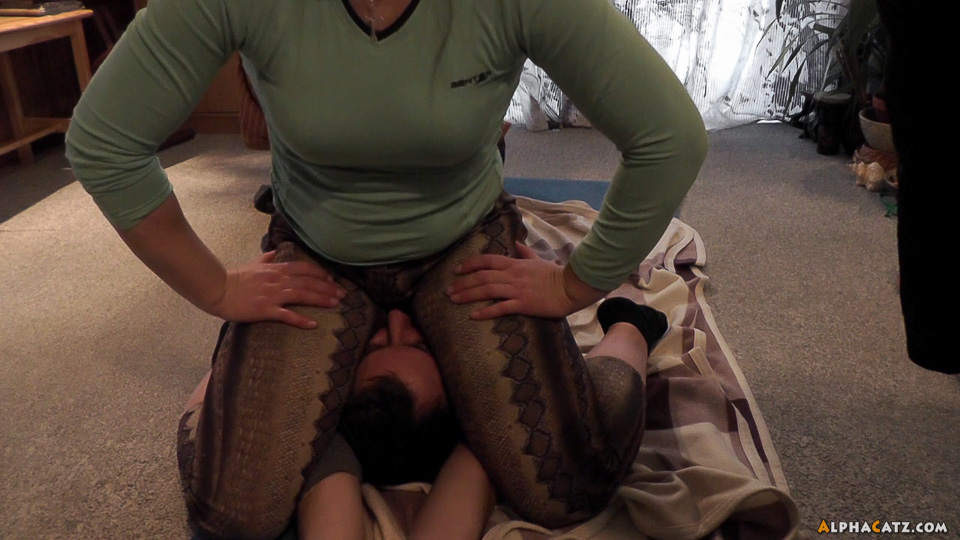 Nikita, 5'5" 160lbs strong & meaty country girl with thick thighs and powerful butt, has been frustrated at her brother just before this shoot, and was ready to punish someone to relieve the stress. AJ gets the full smothering treatment from this powerful farmer girl who is way stronger than him.

Once she gets him down, he is immobilized and pinned in various holds and positions for the full 30 minutes. Nikita does not let up, and easily controls his tries to get away from her. He is forced to stay pinned tightly between her thighs and suffocated underneath her statesque well-developed gluteus maximus.

You can hear his breathing difficulties and muffled sounds as Nikita uses weight and power of her superior body to keep him under her control. When he's not stuck under her crotch, his face is getting squashed and squeezed by her thighs. During his attempts to lift her off of him, Nikita naturally comments how he will never escape from underneath her, and keeps herself firmly planted on top of him. Wiping his teary eye, he wants the pinning punishment be over, but Nikita presses on, switching from frontal pins to reverse, then grapevines him along with breast smothering for an unescapable combo, figure 4 (and double figure 4) pins him, and her favourite, reverse face scissoring where she gives him fish face before closing him off from the outside world between her shapely 24.5" quads.

Locking him in the final SGP tight smother pin and controlling his wrists with her arms for maximum immobility, she keeps him in this final hold until he is forced to give up to her and state that he cannot take it anymore. Putting her knee on his exhausted torso, she proclaims her victory!
AC-CUST-033: SMOTHERING TAPOUTS! feat. Alkaia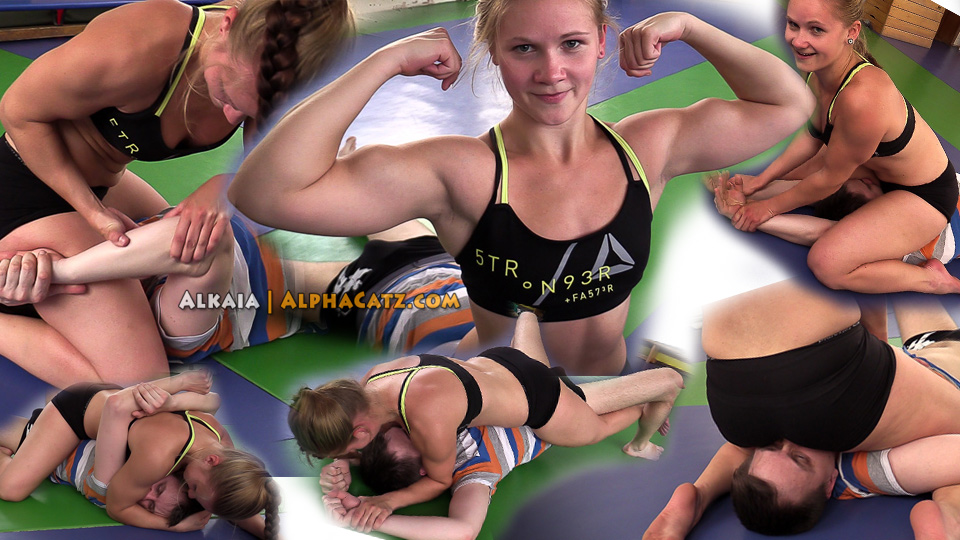 Alkaia starring in great custom order suffocating match. The only 'script' in this movie comes from sponsor's request that the only submissions that are allowed must come via (any form of) smothering or facesitting tapouts and that at least 1 submission must come from smothering frontal headscissors with male's face buried in woman's belly/crotch. While the male is not allowed to submit her, he must fight to try to stop her from submitting him; therefore the action is best described as mix of competitive and semicompetitive.

What follows is Alkaia taking pleasure and having fun in outwrestling and forcefully and realistically smothering her poor male opponent in various positions, such as: forward and reverse facesitting pins, belly smothering, arm/biceps/armpit smothering, smothering headscissors, and tight breast smothering pins. Some suffocations end up in the male submitting, some he's able to withhold or at least delay the inevitable by moving his head, until she readjusts or changes position to trap him again to finish him anyway.

Alkaia looks great and her strong thick thighs and powerful butt keep coming on top, often first immobilizing him and demonstrating her physical superiority before moving in for the finishing holds that rob him of oxygen until he's out of air and forced to submit to the sexy amazon. Just imagine having her chiseled biceps wrapped around your head, pressed right into your face as she smiles and watches you struggle to get out from such humiliating suffocating ordeal!

She ends the match with hot facesitting victory pose, sitting on top of her beaten opponent proudly, while flexing her amazing biceps peaks. Fans of Alkaia and those who love seeing strong woman forcing you to submit with various smothering positions, this is your movie!
AC-COMP-032: BARBIE FIGHTING DOLL feat. Inanna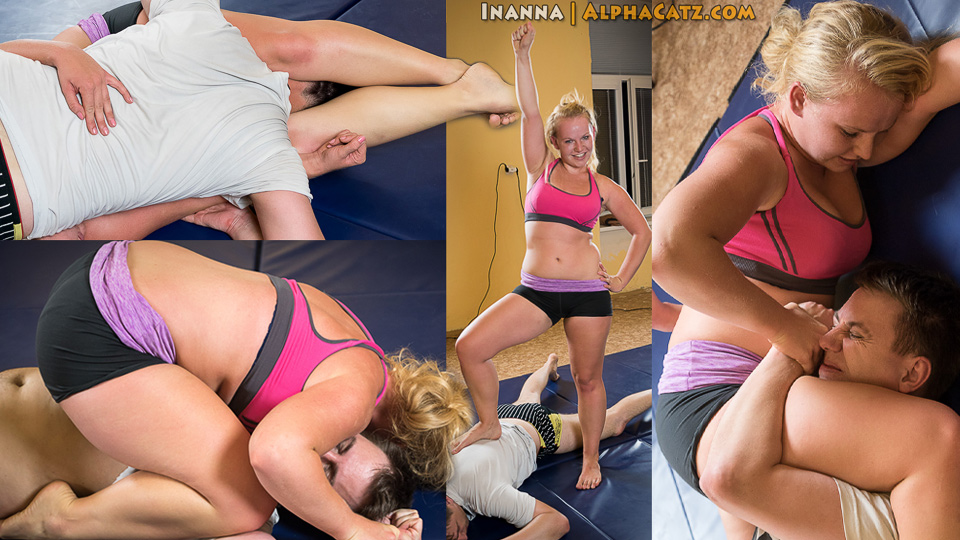 Inanna, our new next-door type fighting girl, who with her long glowing blonde hairs and sexy softer curvy feminine shape (that's build on top of very strong sports-trained body) brings that sought-after womanly appeal mixed with great athletic prowess.

Inanna may look like innocent Barbie girl at first but make no mistake, her spirit is competitive and her actions on the mats give a good clue that she will be a feisty opponent for anyone. Fought at the end of long shooting day, it is Inanna who has a lot more stamina left in her in this match and she is able to respond to any male attacks with decisive counterattacks and position reversals. Whatever she may be lacking in technique she more than makes up for it with ability to wrap AJ into less usual hold combinations that twist, stretch and immobilize him into a pretzel time after time.

Scoring a dozen of submissions, Inanna often uses her weight for various schoolgirl pins with counts to 10, as well as immobilizing headlock & bodyscissor submissions. Finally, all sweaty and her soft skin glistening, she ends the match with standing victory pose, smiling at her boyfriend in the background (who was so proud of her after the match, telling her she found a new respect for her abilities to handle herself against men so well)! AJ on the other hand admitted after the match he was really uncomfortable having a girl whose boyfriend was watching beat him and felt humiliated to lose to her in front of him.
AC-COMP-031: LITTLE GYMNAST STRENGTH feat. Cobra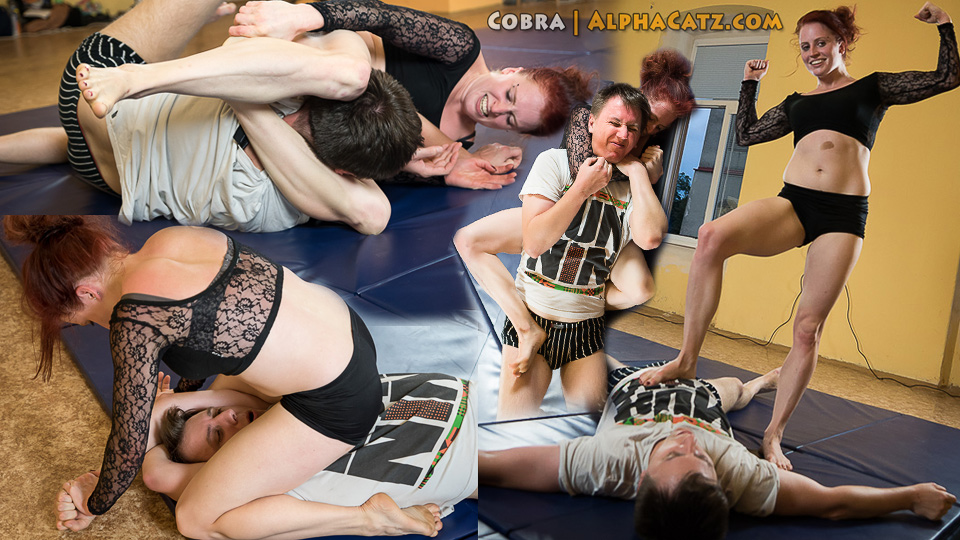 Cobra may be the strongest little athlete we've hired recently, judged pound-for-pound anyway. It's pretty amazing what amount of strength is hidden in this relatively small girl. She starts her mixed wrestling debut a bit unsure of herself, perhaps, as if she doesn't know how strong she really is. AJ too thinks he will have an easier match against her, and they use the first few rounds to test each other out. It quickly starts becoming apparent that this little gymnastic ball of fire is perfectly capable of facing and beating a larger opponent. Shorter Cobra may be at disadvantage during initial lockups/takedowns but she has no problems fighting from bottom positions, often securing painful headlocks out of nowhere that have her forearms cut into his neck with quick bursts of power and tenacity. Cobra's favourite way to accumulate points in this match is however a schoolgirl pin, which comes as a bit of a surprise as she is not as heavy as some other bigger girls. Due to her gymnast training, all her muscles posses great functional strength and being so flexible this strength also comes in wide range of motion. AJ commented after the match that he often was in awe at her bulging trapeze muscles as she was securely pinning him down during numerous counts to 10. As Cobra gains more confidence, she will become a small big force to be reckon with on the mats. Big cut on AJ's neck caused by her hands digging into him may be a sign of more good things to come from this little redhead powerball!
AC-CUST-030: ARMWRESTLED, SQUEEZED AND POSED OVER feat. Artemis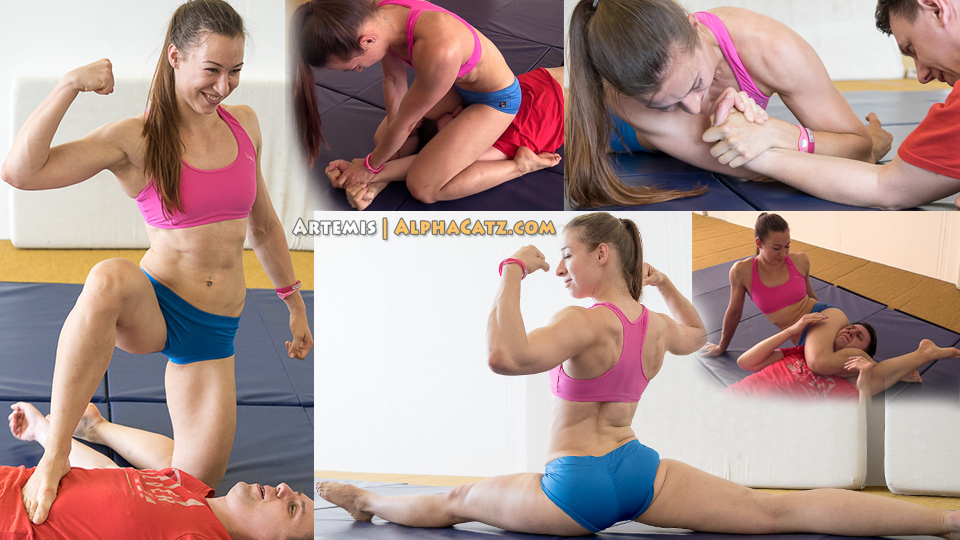 Artemis starring in custom order movie that every one of her many fans will love!

The action starts with long armwrestling contest as Artemis teaches AJ big lesson in woman's power as she enjoys working his arm throughout half a dozen armwrestling rounds. She smiles and teases him while he struggles to compete with her strength.

After the last round, she pushes him down on his back, and quickly shows us those sexy guns as she poses over him. The whole armwrestling contest takes almost 5 mins.

She then goes to show him the power of her wrestling holds, pulling him into hard head and body scissor holds, tight pins, choking crossbody pins, and other controlling holds. She finishes her sexy holds' demonstration and male punishment with final super tight schoolgirl pin.

After her demolition of her "boss", she steps first on his face, then on his torso, and finally stands towering directly over him, flexing her muscles, looking down at him and to the camera, smiling, as we stare at her chiseled shape during this lengthy final display of female physical superiority. She knows she's sexy and she loves showing it. The whole wrestling holds punishment part takes over 7 mins.

The last three and a half minutes are spent with Artemis going solo as camera pans across her amazing body while the athletic amazon poses, flexes, and stretches for your eyes and enjoyment. This girl is so hot, you don't want to miss this!
AC-COMP-029: 6-FOOT NEWCOMER AGGRESSION feat. Freya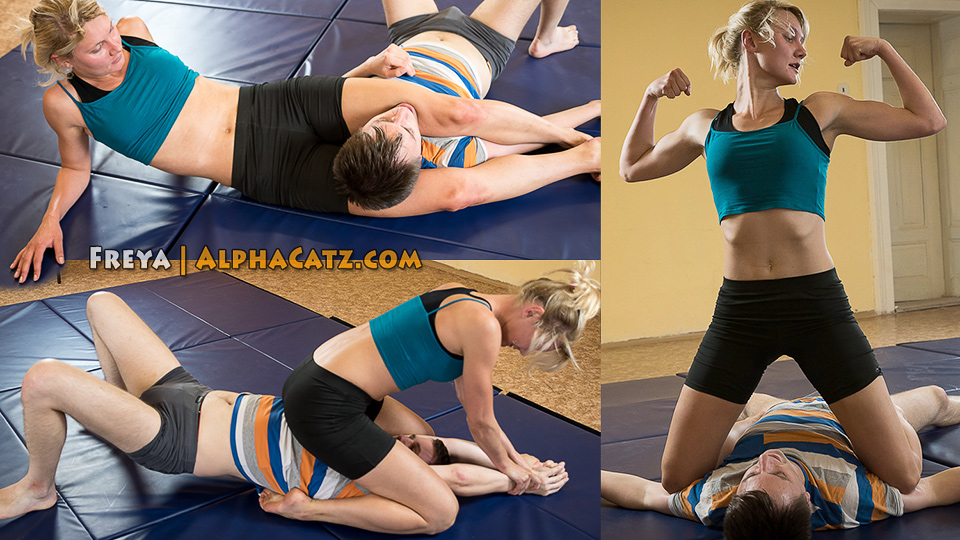 Freya marks another tall amazon addition to our team. She may be new to the world of wrestling, but her long legs and fit body are well trained in kicks and punches. In her mixed wrestling debut, she uses her aggressive attitude to establish very soon that she is not to be taken lightly on the mats either. She even likes to attack AJ's trachea, and despite him asking her not to, she often presses her forearms against it, causing him pain whilst fighting to keep him down. Freya is no stranger to fighting men, and so despite being a wrestling newcomer, she always attacks her opponent confidently and aggressively. You can see in her eyes that she always goes for the win, attacking right away when rounds start. Her long legs possess great leverage for scissorholds which she finds liking in, sometimes trapping AJ for a little longer than needed, whilst looking at him with a sexy smirk on her face. Sleeperholds are her another favourite go-to move to finish him off. At the end of her match, she wastes no time to start double flexing while still straddling his beaten body, so wanting to emphasize her superiority over him. Her facial expressions during this awesome victory posing tell it all! This 6ft blonde with model looks is a born fighter.
AC-CUST-028: GIMME YOUR STUDY NOTES! feat. Alkaia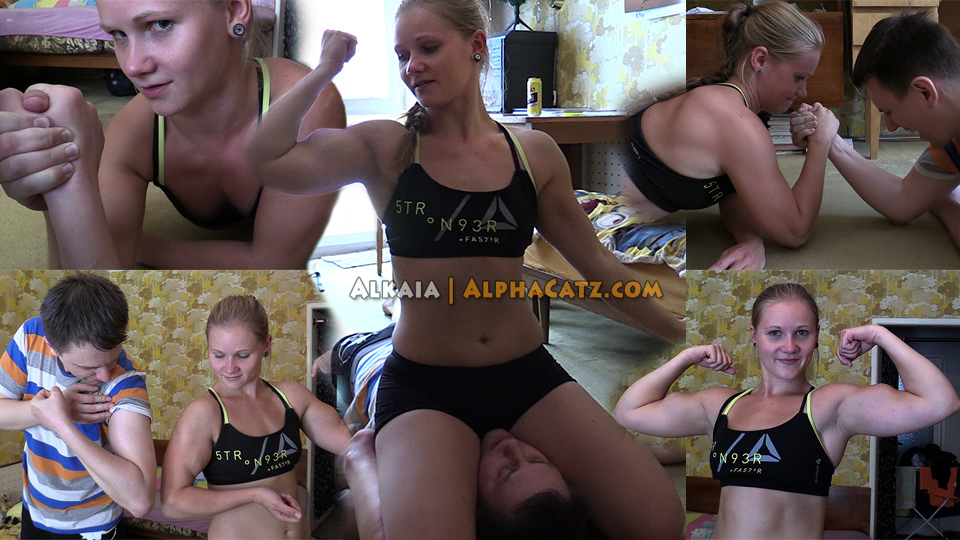 Alkaia, the all-natural sexy athlete with amazing biceps peaks, plays a student whose diligent gym habits made her skip the school and not get the lecture papers she needs to study. So in this custom-ordered scenario movie, she goes after AJ to get his own study papers from him, whether he wants to give it to her or not.

Fully confident in her athletic abilities, she challenges him to multiple rounds of arm wrestling bouts and states that whoever wins, gets to keep the papers. To demonstrate clearly she has the physical means to get whatever she wants, she takes off her shirt and starts to flex her muscles, telling him to touch 'em and to show off and compare his to hers. By looking at her well trained body and muscles which are bigger than his own, it starts to become clear to him that this will not be an easy challenge for him to win!

After demoralizing him in mutual muscle comparison showoff, Alkaia gets down on the floor and orders him to follow so they can start arm wrestling. While there is a script to follow, armwrestling rounds are realistic and AJ gets humbled and embarrassed by this young alpha female. She not only beats him in armwrestling, she manages to taunt and ridicule him playfully during the bouts verbally as well.

After winning her last round, Alkaia jumps on top of him, schoolgirl pin style, and does a triumphant victory pose. Male gets taught a lesson.. next time, he better just hand over those papers right away, to save himself from suffering such humiliation from the hands of such amazon.

The movie ends with Alkaia looking straight at you, the viewer, challenging you to armwrestle her, slamming her muscular arm down in one last show of her alluring strength and womanly sexappeal. What a woman!
AC-SES-027: SESSION MADE MATCH feat. Nica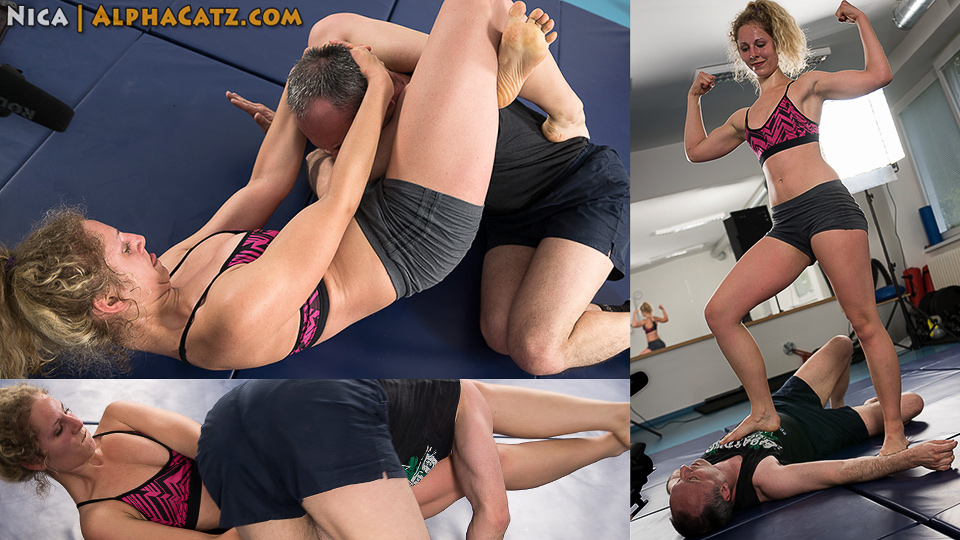 Nica came to town to have session with Gernot, even though she was sick. Talk about dedication to wrestling - this fighter girl just won't miss a chance to face guys on the mats! After their 1hr session, we decided to film a 15min extension since they both had energy left to rumble some more.

Wrestling pace changes smoothly back and forth between light semicompetitive and light competitive action. What it means is the action is mostly semicompetitive with some competitive moments, with decisive and real submissions. Both opponents are allowed to score points and they both do. Both submissions and pins to 10 are used.

Nica handicap: stiff neck muscle strain, flu
Gernot handicap: more than double of Nica's age :)

Upping the ante from our usual HD 720p standard, we release this movie in full HD 1080p.. figuring the fans' favourite Nica deserves to be seen in full detail. After her 7th submission, the young wrestler finally ends their encounter, stepping on her beaten foe in her typical style, performing long double bicep victory pose!
AC-DOM-026: HELD CAPTIVE BY SNOWBOARDER 1 feat. Gaia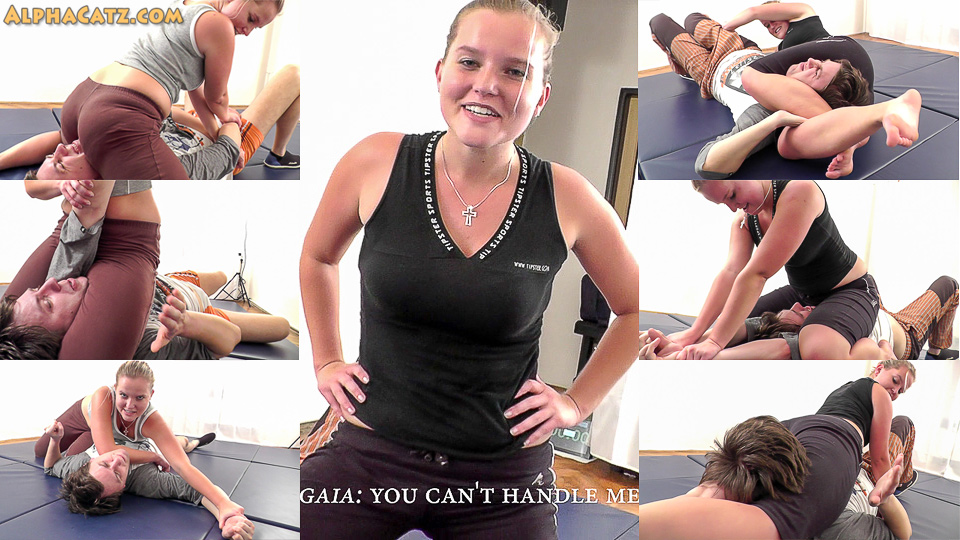 Gaia is one naturally dominating sassy vixen. During her initial phone interview, she expressed such a desire to physically control and punish, we knew we had another gem on our hands. Being smart and witty, yet with a short temper, we didn't have to teach her how to behave either. She was right at home dominating poor AJ with tight immobilizing pins and tap-inducing scissorholds.
In her 1st movie, Gaia proceeds to administer 5 very long holds, not ever bothering to release her grips (as he taps repeatedly) until she satisfy her bossy innerself (which usually takes her about 3-5 mins per each hold). Having significant body mass developed from years of snowboarding, she has no trouble holding her captive victim against his will, until she decides it's time to move to another punishment hold. Whether it's forward or reverse SGP, side or reverse headscissors or painful choking triangle, she makes him realize he is trapped and squeezed between her sizable legs and bulging butt cheeks for one reason only, and that is to stroke her inner ego. She rules this mat and more he suffers, more she smiles!
There are several various victory poses and 2 different outfits used in this video. Gaia is all woman with a lovely face of a sexy goddess, yet loves crushing men and their egos!
AC-DOM-025: MORRIGAN OWNAGE 1 feat. Morrigan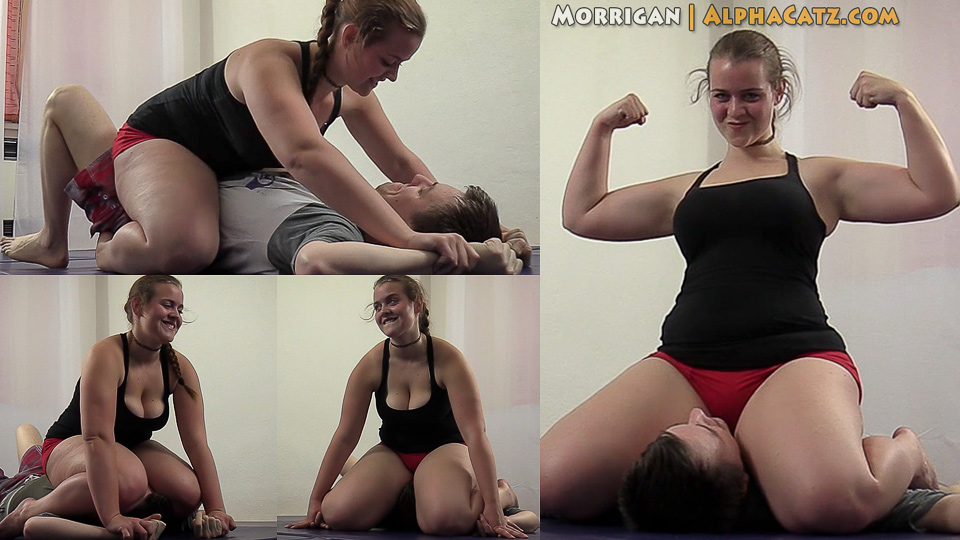 Morrigan is one of those girls who seem to have been destined to be an amazon and not just your ordinary boring woman. She weighs 190lbs, possesses statuesque womanly hourglass figure, can squat over 220lbs, yet looks like a model and is completely feminine. To top it all off, she loves to overpower and dominate guys! In her 1st movie, she takes AJ down and mounts him in a body pin, pinning his wrists to the mat and straddling his torso with her massive 27inch thighs. AJ instantly becomes totally and helplessly trapped underneath this big heavyweight amazon goddess and no matter how much he tries to shake her off of him, she's just not going anywhere. Morrigan attitude is playful yet dominant, sexy yet thorough in making sure she keeps her man down where he belongs. AJ gets frustrated that woman can own him so much, but Morrigan enjoys her superiority too much and just keeps teasing and taunting him to humiliate his ego as well. Eventually, she decides that just holding him down isn't enough to satisfy her dominant desires, and moves up on him to slowly bring her meaty legs together over his face until it disappears. His face is gone and he cannot move it an inch. Morrigan is just too heavy and too powerful. He is forced to stay locked in such humiliating position for as long as she feels like. When he becomes frantic, she finally allows him a bit of air, only to place him into totally airtight facesitting pin that finishes him off. The sight of her just sitting on top of her man, knowing he is completely at her mercy, is very sexy. AJ admits this amazon could smother him to the end and he could not stop her. That's what ownage means, and this amazon woman can own you easily!
AC-DOM-024: RIDICULED BY TALL FIT MODEL 1 feat. Devilian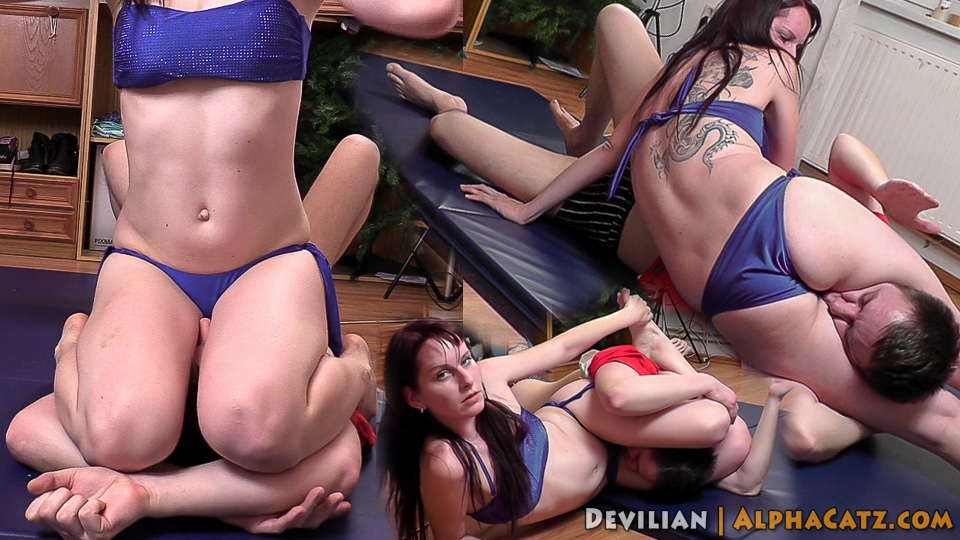 Devilian is our new tall sporty model who came to us with almost a desire to demonstrate that mean streak and pretty girls often go hand in hand. Dressing up in her sexy bikini, she immediately took AJ down and started to put him through one painful position after another. Her victim gets a full dose of tight headscissors and various humiliating pins that keep him under her control and in constant pain throughout the movie. Devilian is quick to ridicule him verbally as well, degrading him with demeaning words and sexy laughter as she keeps making sure he's not having any fun, unlike her!
Whether it's headscissors or pins, she keeps her long sexy legs wrap tightly around his head. It is a humiliating ordeal to be ridiculed and kept immobilized in uncomfortable positions by such a sexy woman who can do whatever she wants with you. And this movie is only her beginning! (later the same evening Devilian continued her dominating performance which will be released in 2 other movies)
Devilian enjoys dominating and her fit slender body is made to conquer you.
AC-CUST-023: SUFFOCATED BY THE BIG AMAZON feat. Domitia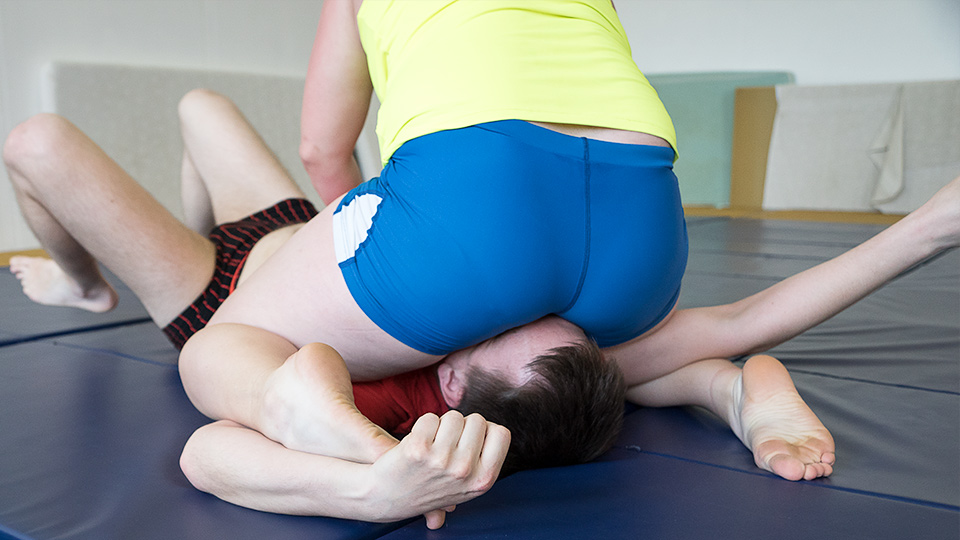 Domitia gets challenged by a fan to use nothing but facesitting submissions as the (only) way to force tapouts. She is perfect for the job. Her body is big and her butt and thighs are so thick and powerful, yet with a softer feminine touch. Combined with her weight, such combo makes for very effective facesitting seal once she securely plants herself on top of your head. She sits firmly and decisively, not allowing any breathing in her facesitting-submissions-only debut match. Other girls in the room giggle as AJ gets humiliated and smothered by the stronger amazon over and over.

Domitia can squat almost twice as much as AJ, so soon he realizes, he just can't outmuscle her. He sometimes frantically tries to protect his head against her advancing higher and higher as she pins him down, only to succumb to her suffocating efficiency time after time. After the final reverse facesitting tapout, the victorious female ends her decisive show of woman superiority by performing victory pose on top of her beaten and degraded foe.
AC-COMP-022: TALENT GETS HURT feat. Lilith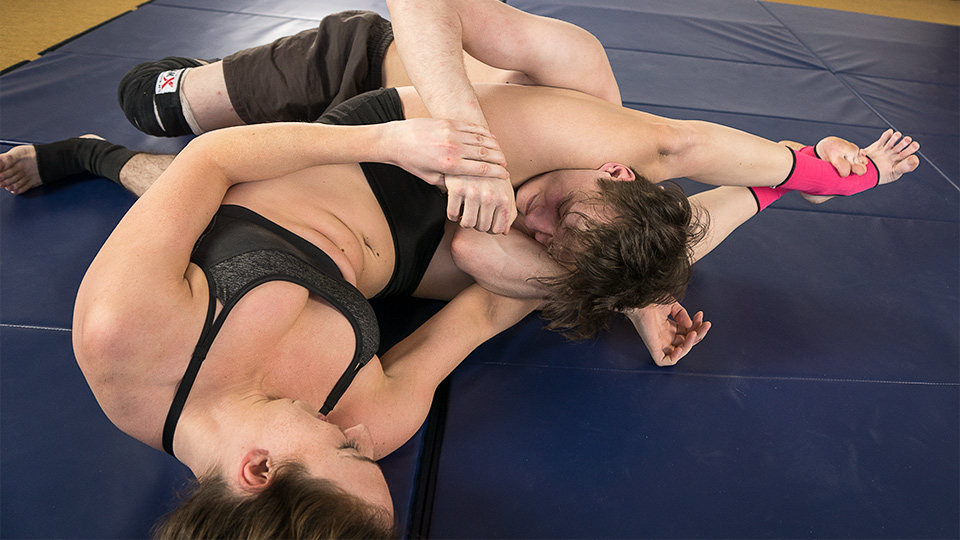 Filmed in upgraded quality as the first match after all our recent equipment upgrades, following is a battle of our talented athlete against heavier bigger guy, where the girl is on a difficult but clear path to victory, outmaneuvering and outwrestling her foe until the bitter end...

Lilith performs at her peak in this competitive mixed wrestling match against young fit taekwondo guy Andel. Being one of our light-weight competitive wrestlers, she relies on quickness, smartness and finesse, using her pole-dance trained legs to constantly keep Andel entangled up-close, while patiently waiting for openings to entangle him even more and inevitably finish him off in several nice submissions. Her arms and legs just keep digging into his neck and body with her typical systematic tenacity. Pound for pound, Lilith may be our most talented wrestler, fighting more cleverly and efficiently with each new match. Their intergender battle keeps picking up speed when all of the sudden, Lilith's knee gives out.

Lilith suffers bad injury in this match and we hesitated in releasing it. Don't get it if you expect our typical nice victory pose at the end, there isn't any as the match ends abruptly. We chose to leave the moment of the actual injury in the video, so do pay attention to the on-screen warning to stop the match (at 05m53s) if you're too squeamish to see it. While this'll obviously be Lilith's last match for a while, make no mistake - this competitive athlete just loves wrestling too much and is expected to return in late summer to kick some more butt once she fully recovers!
AC-CUST-021: FIT ATHLETIC QUEEN feat. Artemis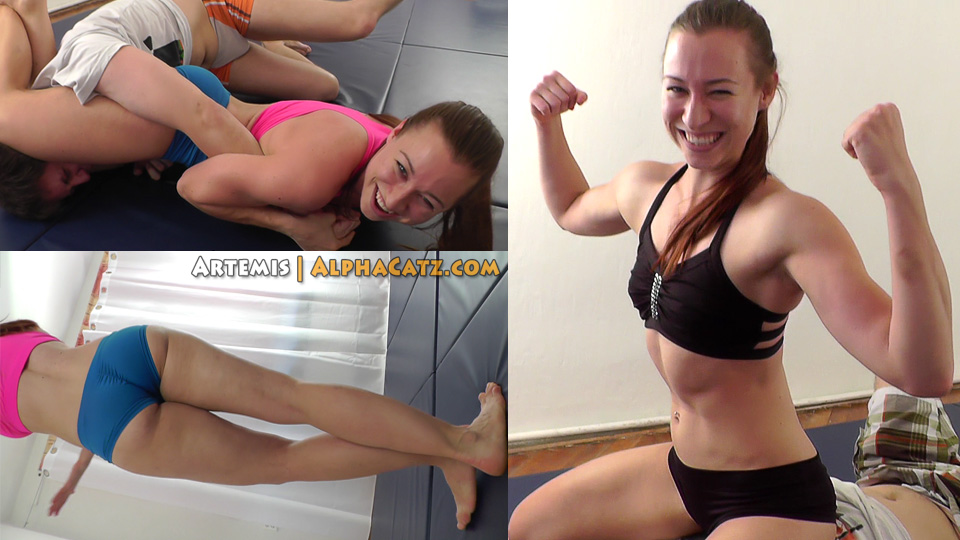 Artemis starring in custom order movie (therefore not for everyone!). Artemis spends majority of time (about 9 mins) showing off her hot athletic body - all done in slow & smooth HD motion. You get to see her posing, stretching, exercising, and showing off her amazing flexibility and super sexy curves on her gym-chiseled dream-like body. Actual wrestling (a bit less than fully competitive due to custom script) match runs about 4 mins, and customer wanted her to use just the front headscissors and bodyscissors, to put her competitive poledance trained thighs to good use. Artemis squeeze is unbearable, once she pours on the pressure, it's tapout or suffer. Final fall is via forward schoolgirl pin where she cements AJ to the floor while she slowly counts to 10. She then performs smoking double bicep victory pose, with a cheeky sexy smirk on her face. This girl was made to perform and be admired by lovers of very athletic girls next-door. 2 different outfits are used to reveal her trained figure.
AC-COMP-020: VENERIS THE MIGHTY ONE feat. Veneris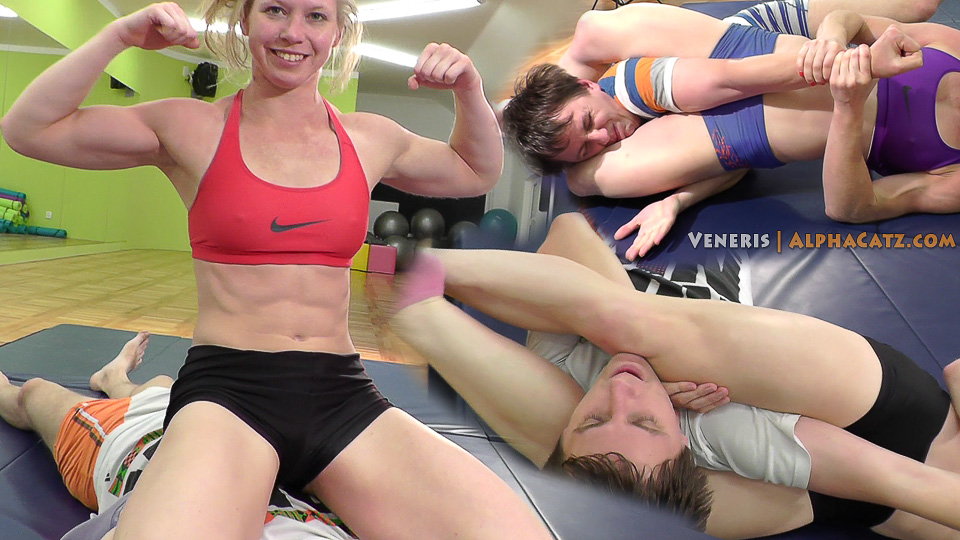 Veneris came back, by a very popular demand, this time taking on AJ. For this match, she challenged herself to only headscissors submissions and school girl pins with count to 10 (note: she "forgot" once and scored a quick bodyscissors tapout as well). Overall, she triumphantly managed to score over a dozen tapouts out of her very much overwhelmed opponent, while barely breaking a sweat. See, Veneris is so fit and powerful, she only needs to switch to overdrive when in trouble, while her opponents wear themselves out just trying to put her in any hold, let alone keep her there. She simply ups the ante in her efforts to overpower any resistance, and forces her way out to trap you instead.
She shows off her imposing guns several times throughout the match, double flexing proudly after achieving tapouts, and her chiseled yet feminine body is such a sight to behold. Alkaia films and cheers Veneris on more than one occasion as she cannot contain excitement of witnessing her fellow amazon girl beating up a male against his will. Slow-motion montage of all victory poses of the match are included at the end. Veneris fans will enjoy!
AC-COMP-019: WELL-ROUNDED BALLET FIGHTER GIRL NICA! feat. Nica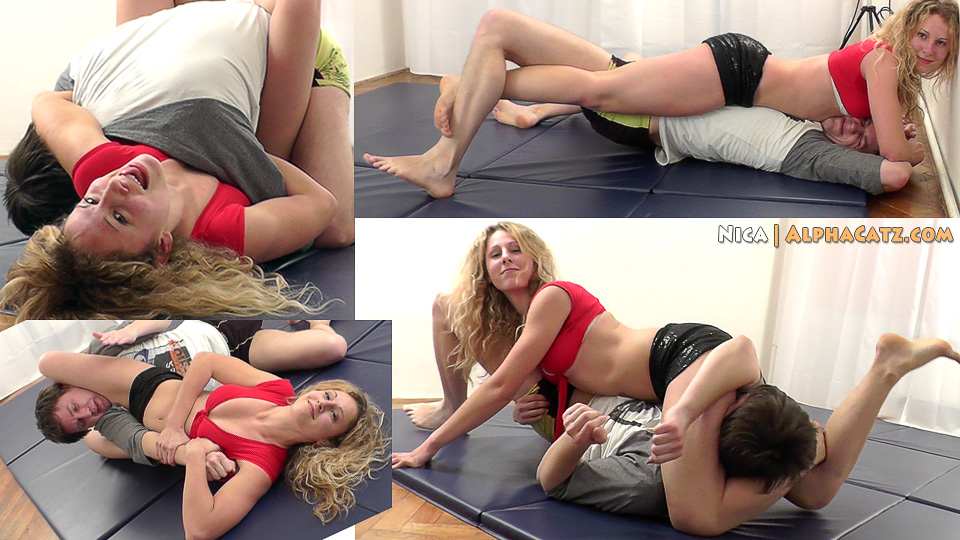 Nica, our new talented hottie who has every ingredient to become one of the stars on the wrestling scene: model looks, fighting skills, athletic abilities, right attitude. Just watch her quickness and ease with which she applies the holds. Before you know it, she has you wrapped up in a triangle, gasping for air, while she casually makes sexy faces to the camera. In fact this match is full of triangle chokes, headlocks and oozing sex-appeal of our rising star, who loves to wrestle, trains at home w. her boyfriend, and shows us how it's done. The match and AJ is kept fully under her total control, and it's a lovely sight to watch how she keeps finding time to pose for the camera during the action. Her flexibility and quickness keep her one step ahead of her opponent and she uses her long sexy legs and well-trained body to rule the mats, one submission after another. She teases AJ several times while she has him locked up in holds, and finally ends her domineering performance with her foot on his chest, while flexing her guns in slow-motion. Nica rocks and we cannot wait to shoot with her again!
AC-COMP-018: FEISTY BIKER'S RACE TO THE VICTORY feat. Taifun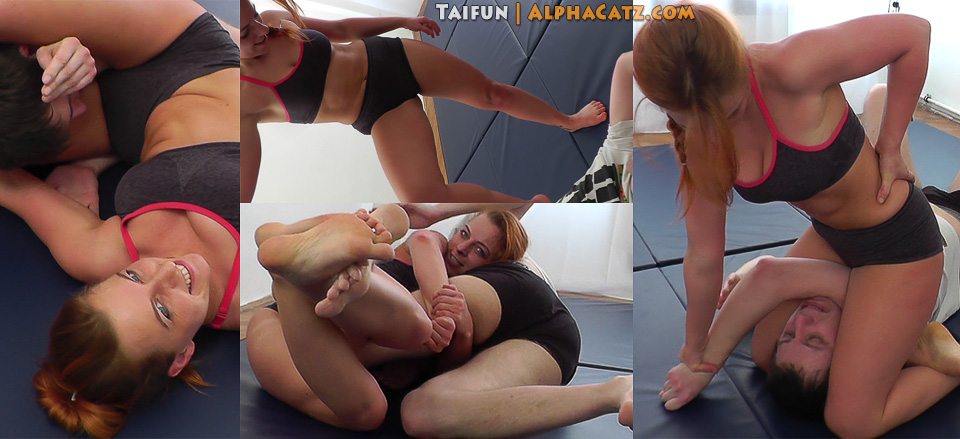 Taifun gets her name from the fact she's like a typhoon on the mats. She's the one who caused Artemis her rib fracture during their encounter just days after this mixed match was filmed. We feel we will have teach Taifun to not be so feisty, as due to her being still new to the wrestling, she is very tenacious and likes to bend and twist you a bit too much. She's a short girl, but incredibly strong for her size, thanks to being so competitive in multiple sports, which give her grips a rock-like feel. Once she grasps you with her arms and wraps you up with her legs, it feels like being cast in concrete.. it becomes very hard to move at all.
Taifun scores several very quick submissions over AJ, and once she sees she has what it takes, she becomes like a cat. To really sink in his helplessness against her, she doesn't submit him in some total control holds right away, but rather prefers to extend his suffering, and even takes time to smile for the camera while he struggles in vain to escape her entrapments. She carries out a beautiful smile as she keeps tapping him out and in the end performs a genuine-win-satisfaction happy victory pose, putting her polished toes onto his chest as she flexes for the camera. This is one fiery redhead, who once on the wrestling mats, takes no prisoners and really loves to go at it!
AC-COMP-017: EX-JUDO GIRL SHOWS HIM HOW IT'S DONE feat. Katrina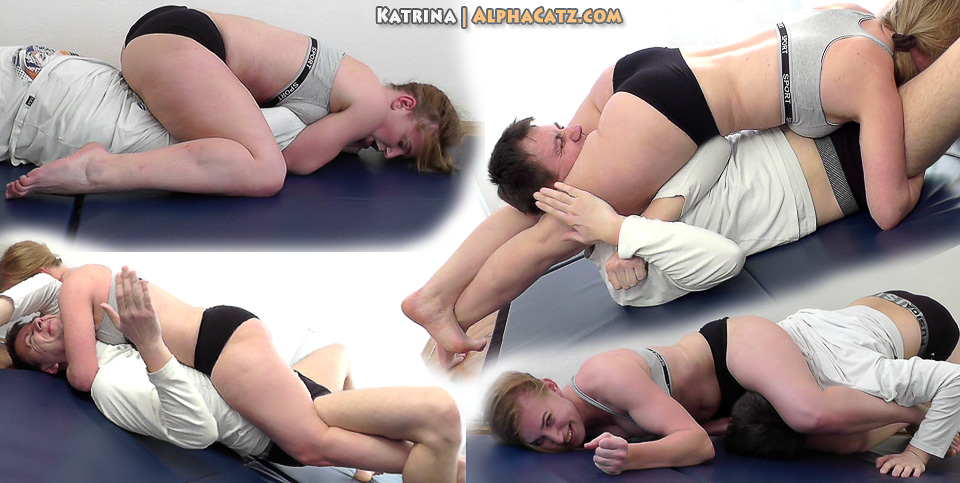 Katrina is strong yet feminine girl who loves to wrestle and fight. She used to compete in judo and getting her started in mixed wrestling was easy. She came well prepared into her very first mixed fight for AlphaCatz. Her arsenal of chokes, great stability and ability to pin you down and make you immobile under her was already great, and she picked up on headscissors almost instantly. She is short with powerful hips and very stable on the ground. This is competitive match with pins & submissions and both sides manage to score points (albeit only one of 'em scores many points)! Katrina enjoys winning each and every point and does a winning hand gesture each time to show it. She really loves to fight, gets so enthusiastic.. she busted AJ's lip during one of her many attacks. Bloody AJ didn't like it but he was forced to surrender to a better, more capable wrestler. Let's face it.. how humiliating it must be to be forced to give up via tight belly smothering pin for example? Katrina rocks and in this match she proves she's got what it takes to fight many more competitive matches like this one in the future.
AC-COMP-016: NEW STAR IS BORN feat. Alkaia

Alkaia comes from a very competitive family. Her brothers always challenge her and so she spends quite a bit of time in the gym with 'em to make sure she can be on their level physically. Take a look at her hot feminine body - it is built to conquer great things! Big strong hips, powerful thighs. Alkaia is very enthusiastic about learning wrestling and could not wait for her 1st match to start. You can see the excitement in her eyes as both opponents face off, and her ready-to-go pose, just waiting to jump on AJ and prove she has the mental will and physical means to win. Alkaia also truly loves to pose and show off her muscles. She performs victory poses after several falls throughout the match, not just at the end (yes, a SPOILER: she wins the fight!). Her victory poses are possibly the hottest we've filmed so far. Even Veneris who did the filming can be heard giggling in excitement several times in the background. Alkaia has great peaks in her biceps and several fans have been going crazy over her profile images on our site since we've put 'em up couple months ago. Well, here she finally is, our rising new star to the world of mixed wrestling, the competitive amazon athlete Alkaia.. book your seat and watch!
AC-COMP-015: BIG AMAZON POWER AND SPEED feat. Domitia

Domitia is how ancient amazon warrior women looked like. Tree trunk super strong legs, feminine face and curvy well-built upper body. AJ wants to give her some pointers before the match commences, however this confident amazon woman has other plans. She grabs his head before he can finish his sentence, pulls him down fast and even though he tries to roll her, she pushes her will onto him. Within less than 30 seconds, he is wrapped up hopelessly in her triangle choke, forced to submit by sheer force of her thick muscular thighs. All of this to much amusement from the other girls watching the match in the background, cheering Domitia on, laughing at AJ's inability to beat her. Domitia is so strong, she just steam rolls over him, gaining point after a point. When she manages to catch him in side headscissors, she casually supports her head with her hand, posing for a camera, as she knows he is going NOWHERE. Real woman, big curves, big power. Using headscissors and schoolboy pins, she demonstrates what years of heavy athletics training can do to a female body, giving her strength to beat men with convincing performance. We expect great things to see from this sweet but powerful & meaty amazon warrior!
AC-COMP-014: SEXY ATHLETIC DUO AGAINST ONE feat. Artemis & Lilith

Artemis and Lilith in their very first video. These super sexy athletic hotties come in on the wrestling scene ready and confident - their fit poledance-trained bodies are weapons that are not to be taken lightly! Just before the match, they both show Bruno in very expressive gestures what will happen to him once they attack him. Bruno looks confident since they didn't wrestle guys before. If only did he know at that point just how badly beaten he will lay on the mats just 10 minutes later! The action goes from mostly light competitive to full-on competitive at times. Lilith really seems to want to take charge in most falls. If she ever gets in trouble, Artemis always quickly steps it up, rescues her fighting partner and together they twist Bruno into submission. Their bodyscissors especially are very fierce - they both train on a pole every day and their thighs can crack a rib in no time! Bruno taps out quick. Lilith is able to score several nice headscissors while Artemis immobilizes his lower body. Together they also pin Bruno down multiple times while the hold is counted to 10. After their last point (there are over 10), one girl continues straddling their beaten opponent, while the other gets up and steps on Bruno's face to humiliate him. Together they continue to flex and victory pose over him as he lays there motionless, his fight drained out of him. What a duo to be outwrestled by!
AC-COMP-013: VENERIS THE SUPERPOWER AMAZON feat. Veneris

Veneris is an amazing athlete with highest level of overall fitness imaginable. She heavily competes in multiple demanding sports and is a lot stronger and more fit than your average guy. Whatever she may currently lack in wrestling experience, she more than makes up by being on a whole another physical level from a guy like Bruno. Wrestling her almost seems fake, as she is capable of reversing your position in an instant and will make you tap out by barely squeezing maybe 20-30%. Bruno is very scared of her and is cautious to tap out before injury occurs, as this is an amazon capable of crushing you into a pulp with minimal effort. Mind you, Veneris is not a masculine bodybuilder however, she very much keeps her femininity.
The video starts with quick muscle comparison, where one simple glance at their bodies shows how much her superfit muscles just outclass his. To prove her physical superiority over him right off the bat, they start by armwrestling and Veneris just laughs at his efforts to beat her before plunking his hand down like he's a child.
This competitive mixed wrestling match has rules of scoring points via schoolgirl pin with count to 10 and bodyscissoring / headscissoring submissions. Veneris wins points by applying all of those. And even though this was her 3rd match in a row shot on this hot summer day, she never slows down or asks for a break. To her, beating a male is no big deal, as she outlifts 'em in the gym everyday. She's just a machine with relentless stamina. She even giggles often during the match, as if in awe of herself at how decisively she is able to make a guy submit so easily. Seeing her charging Bruno to get on top of him, you wonder what it would take to stop her from doing whatever she wants with you. After forcing last submission out of him, she finishes the match by performing hot double flexing victory pose while straddling her beaten opponent, her sweaty pronounced abdomen muscles glistening in the afternoon sun.
AC-DOM-012: HUNGARIAN STAR TREATMENT feat. Viktoria M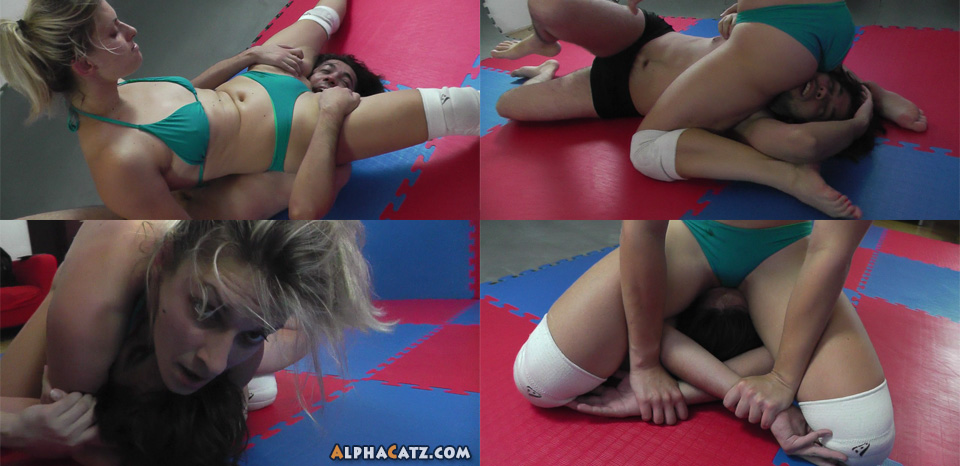 The famous wrestling star from Hungary pays a visit to AlphaCatz. ViktoriaM is the name that doesn't need to be introduced. One of Europe's best wrestlers, she agrees to no use of scissors in this mixed wrestling smothering pins domination match. She is even that confident in dominating Bruno, she allows him to get upper hand several times by going easy on him momentarily, only to reverse the position as soon as she feels like by performing her famous hold escaping moves, which seem to come so easily from her due to her immense wrestling experience and flexibility. So even though Bruno tries to surprise Viktoria by mustering short bursts of maximum effort and energy, Viktoria is such a master of getting out of seemingly inescapable situations, she keeps the match under her control... which means Bruno frequently finds himself trapped under her butt cheeks, or struggling to breathe in her breast smothering clinches. As Viky rightfully says, every guy needs an ass in his face! The match therefore has both competitive moments as well as slower domination parts.
At one point, Viky immobilizes him in a tight SGPin. What happens next would render almost any other wrestler unable to continue. Bruno swings his legs up, but instead of hooking his legs around her torso to try to buck her off, his heel hits Viky's nose, in a hard direct hit. Amazingly, instead of immediate match stoppage, Viktoria never even shakes and just pummels trough, punishing him immediately for such foolish move with heavy HOM and hard facesitting. She never lets go of her dominating top control since that moment on and finishes the match with a double bicep flexing victory pose, while asserting her dominance to him verbally as well.
AC-DOM-011: HOT YOGA INSTRUCTOR STRETCHES HIM OUT feat. Claudine

Claudine is as sexy as they come. Beautiful angelic face, and sturdy feminine build. Trained in poledance and yoga, her core and leg squeezing strength is more than ready to be used against an (un)lucky guy willing to test her powers. She wastes no time and very quickly traps AJ in a long rear/side headscissors, bending his arm behind his back as well to anchor him good in 2 places. The male is made to submit, stuck in her thighs, but she doesn't let go and instead continues holding him, forcing more submissions out of him. She finally lets him free after a few minutes, but not before striking a quick victory pose, just to show us what she's got.
Next fall she maneuvers him into a long reverse headscissor, and again, just one submission won't do it for her, she wants at least two.. and what the gorgeous and strong Claudine wants, she gets!
Now she wants to pin him down and keep him under her, so she just easily throws him down and keeps on top of him. Lots of nice tight schoolgirl pins, breast smothering, and tarantula. She never gives him much chance. She is just too much woman for him! After she's done with him, she flexes and smiles so sexily, then gets up and steps on her defeated object for the one last pose. That's what models do, they love to pose.
AC-ESC-010: REVERSE HEAD SCISSORS CHALLENGE feat. TARJA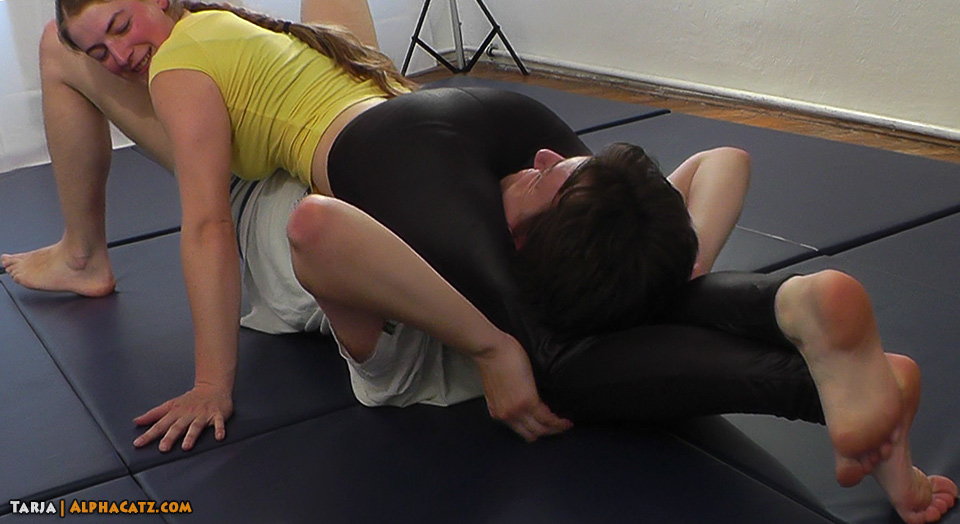 Tarja puts on her black spandex leggings for that extra grip it provides on one's skin and puts AJ into a reverse scissorhold. She is required to keep him immobilized under her control for at least 3mins to win this challenge. Tarja's a competitive horserider and her thighs' clamping power comes from squeezing the horse. Man's neck is no match for her legs! She's able to make him tap out instantly just by flexing the right muscles without even having to squeeze. She does squeeze more whenever he tries to dismount her, to stop his efforts of ever getting out. During her sexy slow-motion victory pose, she points to her flexed muscles, for him to acknowledge her physical superiority over him.
AC-COMP-009: HORSERIDING FARMGIRLS ROCK feat. TARJA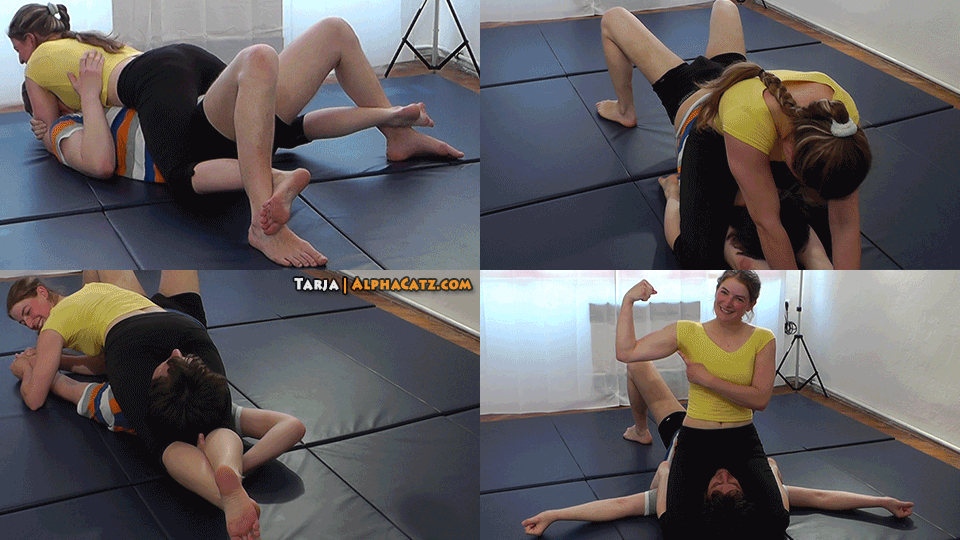 Tarja's a very sweet & fit young woman who possesses great overall functional strength. She grew up on a farm, taking care of everything, and had to often wrestle down her brothers too, to maintain her alpha sibling status. She's the perfect mix of tomboy and girl next door. AJ goes into the match full of confidence, and gets a rude awakening when he ends up flat on his back stuck in a long tight sgpin, unable to get up. And that's just the beginning, as Tarja picks up the speed and submits him via grapevine almost instantly for her 2nd point. Multiple headscissor variations soon follow, as she works her way to a clear victory. At the end, she really enjoys her long flexing victory pose as she taunts and laughs at the defeated male pinned under her.
AC-COMP-008: 6'1" AMAZON HORSERIDER vs PHOTOGRAPHER feat. VALENTINA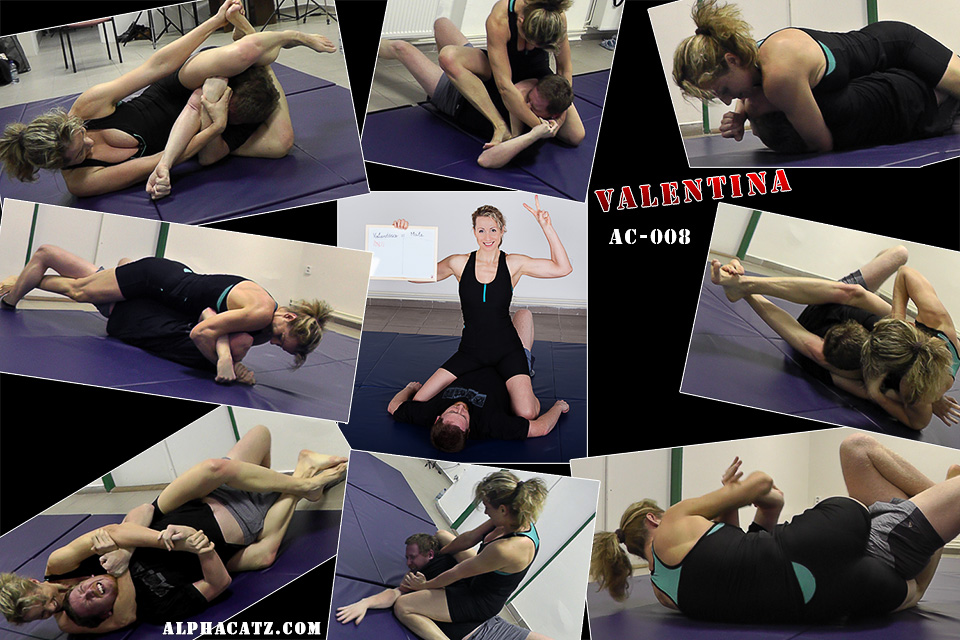 Valentina is back to destroy yet another opponent. Her wrestling style is aggressive and painful as she always tries to wrap all her as well as your own limbs around you to bend or extend your body in ways it was not meant to be. Roger becomes another victim of her aggression and as AJ before in AC004 he too walks away with a bruised rib, plus a pulled neck muscle. Valentina gains several submissions via exotic holds and it's clear neither male in the room is a threat to her whatsoever. Just as she twists poor Roger's neck for the final submission, her attitude shifts from a killer to a player as she raises her hands into a double bicep flexing victory pose and starts smiling and teasing her downed opponent. What a woman.
AC-COMP-007: POWER OF A FITNESS TRAINER & FITBOXER feat. XENA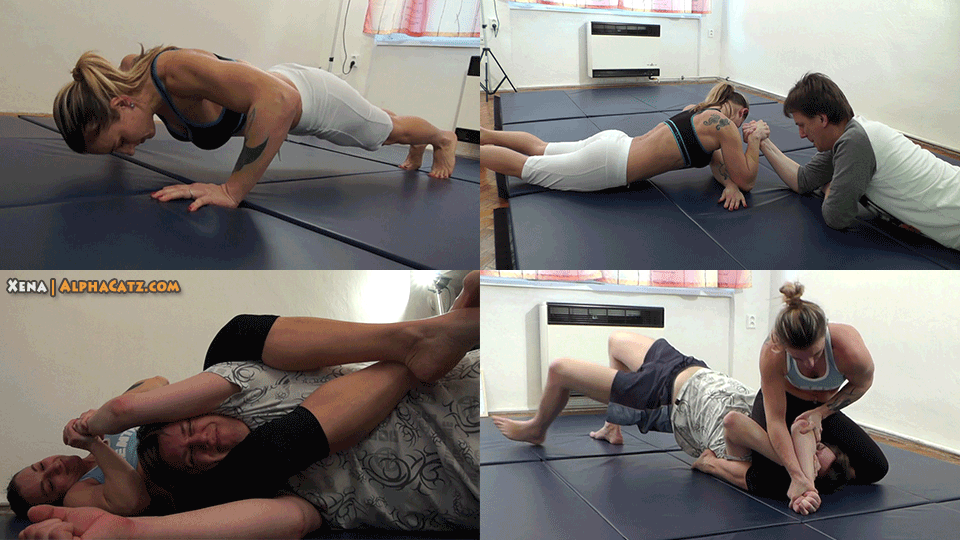 Xena is a proof girls don't need to be heavyweights to overpower and outwrestle bigger heavier opponents. Of course, being a fitness trainer and boxer helps a lot to make that true! This mixed wrestling video starts with her sexy warm-up routine (stretching her muscles, pushups), filmed in slow-motion. Armwrestling comes next, and Xena shows you why she never lost an arm wrestling challenge yet. Mixed wrestling match ensues, with rules of points by submissions and long pins to 20. And when Xena squeezes you, submission comes fast, or something will break. She is fast and agile, trapping AJ in a hold after hold like a tigress. Her final point comes from a long pin, where she leans forwards holding down his arms while immobilizing his head under her sexy lean body. What a humiliation, to be helpless and stuck under a girl over 50lbs lighter like that! She is just genuinely stronger, she knows that, and she likes that. So after her win, she performs a long slow-motion double bicep flexing victory pose, while proudly sitting astraddle on her conquered opponent's head.. to make sure he understands that too!
AC-ESC-006: MOUNTED TRIANGLE CHOKE CHALLENGE feat. ROXY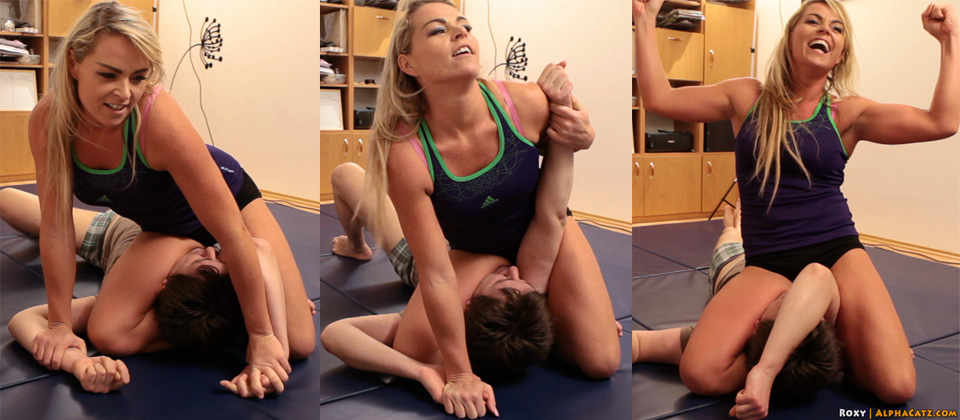 Roxy is absolutely relaxed and 100% confident she can keep AJ completely immobilized for at least 3mins in her mounted triangle choke hold, she offers to pay him back two times the $50.00 she gets for keeping him under full control in this mixed wrestling hold challenge, should he ever get out. Roxy runs track and poledances, her body is chiseled and her leg grip is rock hard. Her right thigh just digs into his neck, her legs form an unescapable prison and her full weight keeps him almost at a standstill. She maintains a firm hold of his wrists too and he just can't go anywhere! All he musters up is an attempt to tickle her at one point when his one hand breaks free. Roxy just laughs at him, secures his puny limb and continues her demonstration of total physical dominance over the guy.
AC-COMP-005: MODEL LOOKS & ATHLETE STRENGTH feat. ROXY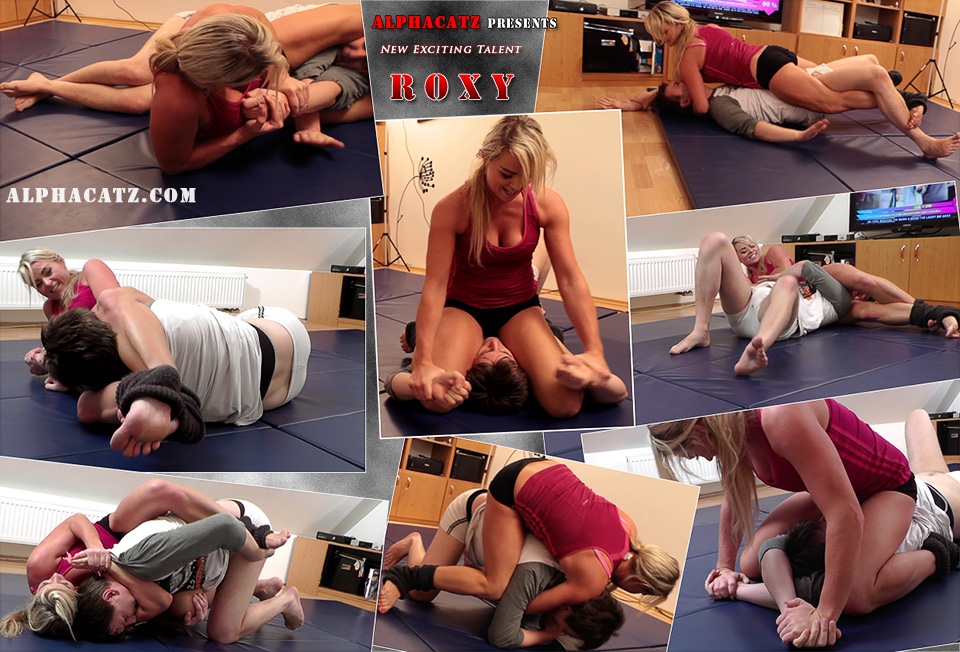 Roxy has it all.. very sexy model looks, and powerful athletic female body. Due to her sporting background, she displays a constant high-powered drive to win, and heads towards a dominating performance right from the start. Rules are submissions and long pins to 20, and you will see her score multiple decisive points in both categories. Couple notes: AJ still fights with the injured rib handicap from previous matches, and the sound is muted during the last fall. Neither detracts from the awesome display of strength, athleticism and sex-appeal Roxy shows you in this high-energy wrestling match. She's the girl you'd want to have home, very strong and ultra competitive, yet completely feminine and beautiful! Match ends with a sexy outro showcasing her fit muscular legs in slow-motion.
AC-COMP-004: 6'1" AMAZON HORSERIDER vs OFFICE GUY feat. VALENTINA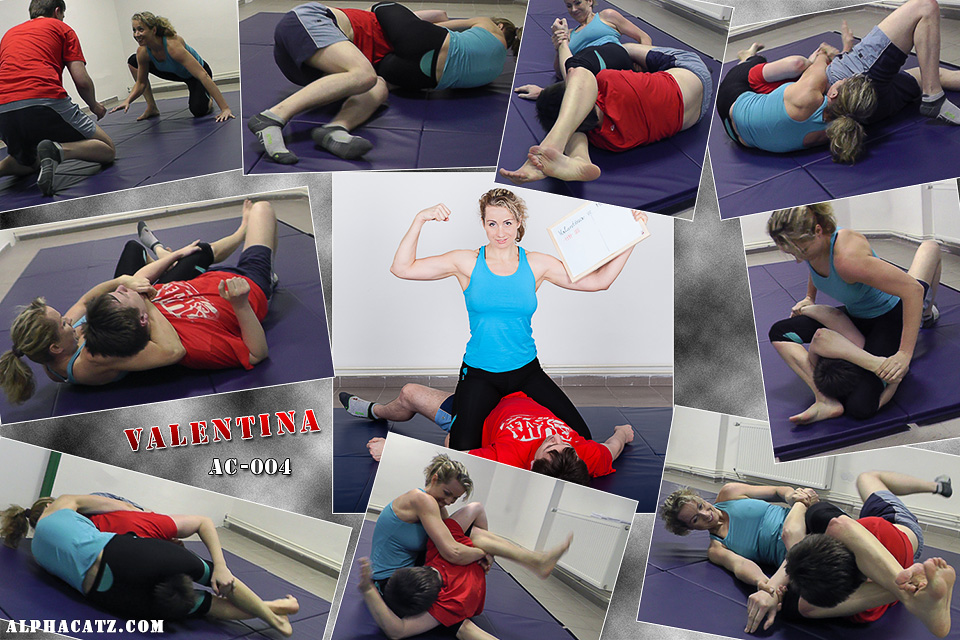 Valentina attacks AJ like a wild amazon, leaving no doubts she takes no prisoners and always goes in for the kill. AJ is suffering from a bruised rib but she doesn't care, she only wants to subjugate him point after point. And that's just what she does, scoring submission after submission from the completely outclassed male. She finds ways to trap, wrap, twist and bend his arms, legs, neck and torso, he never knows what hits him until it's too late. This is one tall sexy amazon milf you don't want to mess with, or she will hurt you. Her dominating victory is celebrated by a double bicep flexing victory pose.
AC-DOM-003: TIGHT PINS feat. EVE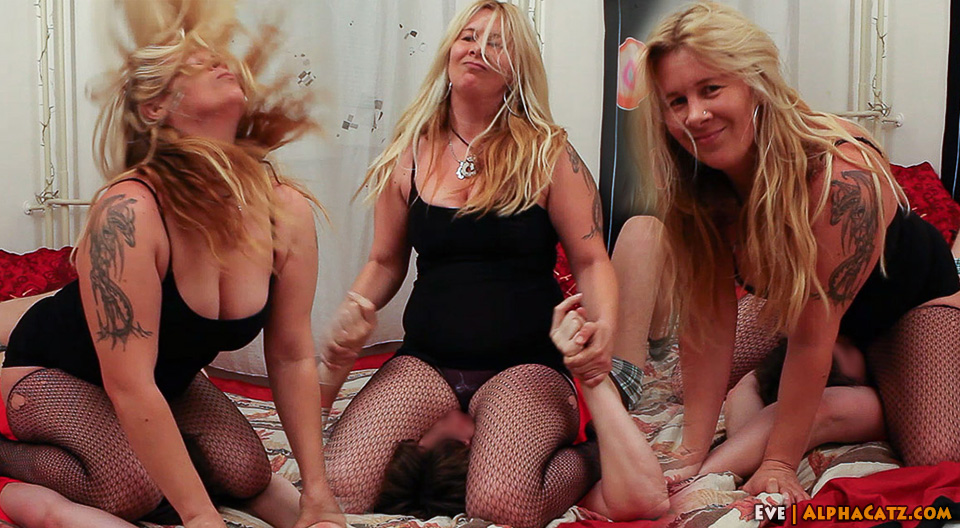 Eve is a massage therapist and a dancer. She is built with thick thighs, powerful shoulders and strong hips. Her butt is soft but well shaped. Eve loves to physically dominate men using nothing but her body, and in this video she goes to work on AJ, punishing him with very tight schoolgirl pins. She's got a very steady base and cannot be shaken off; she knows very well how to keep herself firmly planted on top of you, making you unable to move your head.. and if you can't move your head, you are stuck! She sits on his throat, pressing her thighs against his head. That's exactly how Eve likes her men, stuck helplessly underneath her, so she can enjoy her dominant position and make fun of your humiliating ordeal. She pins him down in forward SGP, switching to a reverse, all while using her 150lbs body efficiently to keep him under her full control.
AC-ESC-002: PINS & SCISSORS IMMOBILIZATIONS feat. VALENTINA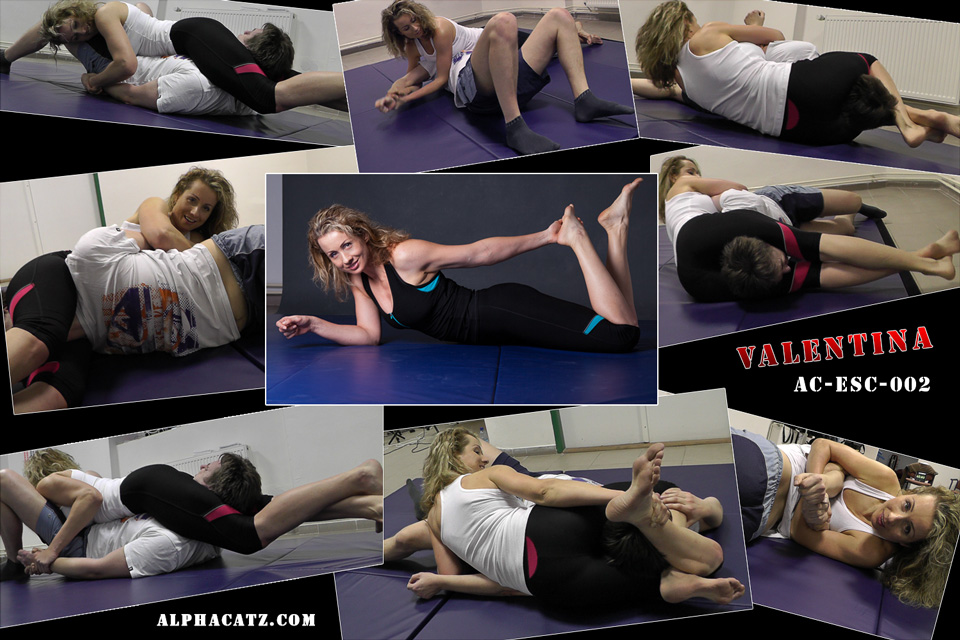 Valentina gets to pick four wrestling holds and challenges AJ she can keep him trapped in all of 'em easily. She chooses side figure 4, crossbody pin, inverted reverse headscissors w. arms trapped, and reverse headscissors as the final challenge. What you don't understand is Valentina's squeezing power is brutal! She measures over 6ft tall, and most of it is in her legs. Her leg muscles are like cables, those long slim hard thighs, they go right into your neck, and they make a mess outta you! AJ suffers and moans and says he felt like puking after the challenges were finally over for him. Anytime he tries to mount an offense, those tall amazon thighs constrict even tighter, and stop him dead in his tracks. Valentina rides horses for living and after she's done riding every day, she goes to gym and lifts weights. Her scissors will hurt you bad as she shows you in this video!
AC-ESC-001: REVERSE HEAD SCISSORS CHALLENGE feat. VIERRA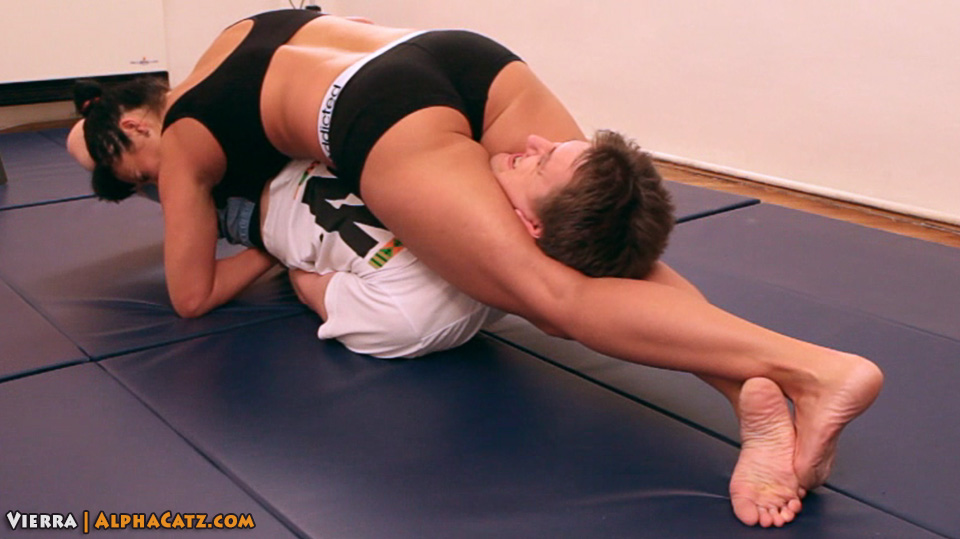 Vierra challenges AJ that she can keep him locked up in her reverse headscissors against his will for at least 3mins, and if she does, he has to pay her $50.00 humiliation fee. Vierra is an accomplished competitive rower and boxer and she is built to conquer men, both with her statuesque physique and her sex-appeal. Powerful bulging glutes, V-shaped back, thick well-built strong thighs, with all feminine appeals of a beautiful woman. She effortlessly squeezes his head and keeps him firmly stuck in place, holding his wrists too for total control. AJ has no chance, and any resistance is met with more squeezing!
---
OUR VIDEO STORES: